#1 Employee Bear: Ty Beanie Babies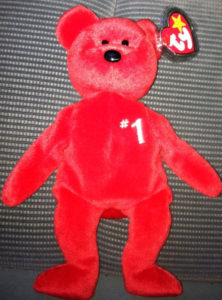 #1 Employee Bear
Style Number
None
Swing Tag
5
Tush Tag
6
Serial Numbered
#/253
Value:
Big Money
Notes: These are extremely rare. Serial Numbered to #/253 in addition to being autographed by Ty Warner on the inside of the swing tag. Distributed to top selling employees at the Ty Sales Conference in December 1998. The event was held December 11-14, 1998 at the Fairmount Hotel located in Chicago, IL.
Value: Very hard to find. One sold on May 1, 2013 for $1,200 by ebay seller keng205
. It's one of the highest priced Beanie Babies we've tracked on our Beanie Worth Money page. If you find one of these for sale, generally they are authenticated by a third party source like Peggy Gallagher, True Blue Beans or another respected source.