Beanie Babies of the Month Price List
Beanie Babies of the Month was a program by Ty that started with it's first release in January 2003.  People would sign up on the Ty website for $60 a year and receive one Beanie Baby per month for 12 months. For $5 per Beanie (plus shipping and handling) it worked out to be a pretty good deal. Membership to the BBOM club was somewhat limited, but many of the toys were produced.  BBOM were only available through the club on the Ty website.  You could also get acrylic cases for your BBOM through the program. They were an extra $36.00 per year ($3 per Beanie) and you had to pay some extra shipping charges.
Many of the BBOM do not hold much value in the current market. The most valuable BBOM appears to be the Lots O' Luck Irish Bear that can sell for over $20.  Many of the other BBOM are not even worth the original price of $5 + shipping.
Below are some reported sale prices of Beanie Babies of the Month:
| | |
| --- | --- |
| Beanie Baby |  Price |
| Adonis The Dog |  $       3.50 |
| Alani The Bear |  $       3.31 |
| Alps The Dog |  $       3.27 |
| Astra The Bear |  $       3.37 |
| Barklowe The Dog |  $       3.76 |
| Billingham The Chick |  $       2.79 |
| Breadcrumbs The Mouse |  $       3.31 |
| Buttercream The Bunny |  $       1.05 |
| Canters The Horse |  $       4.99 |
| Cappuccino The Cat |  $       2.79 |
| Chillton The Polar |  $       4.67 |
| Chompers The Shark |  $       5.00 |
| Clucky The Chicken |  $       4.55 |
| Comet The Bear |  $       3.89 |
| Countess The Ladybug |  $       3.55 |
| Dabbles The Bear |  $       3.31 |
| Decade (Pink) The Bear |  $       4.81 |
| Dreamer The Bear |  $       4.89 |
| Fiddler The Cat |  $       5.55 |
| Fire Plug The Dalmation Dog |  $       3.25 |
| Fireworks The Dog |  $       4.70 |
| Flicker The mouse |  $       4.50 |
| Founders The Bear |  $       5.50 |
| Frisky The Cat |  $       4.95 |
| Fritters The Bunny |  $       2.29 |
| Greetings The Goose |  $       3.52 |
| Grumbles The Crab |  $       7.50 |
| Heartthrob The Bear |  $       3.28 |
| Holmes The Dog |  $       3.26 |
| Icecubes The Bear |  $       3.75 |
| Jersey The Bull |  $       5.95 |
| Jinxed The Cat |  $       4.25 |
| Khufu The Camel |  $       2.76 |
| Kippy The Dog |  $       3.77 |
| Lots O' Luck |  $     18.19 |
| Marsh The Frog |  $       7.00 |
| Merriment The Bear |  $       1.99 |
| Palace The Unicorn |  $       5.00 |
| Peepers The Chick |  $       3.49 |
| Picnic The Bear |  $       4.90 |
| Pocus The Bear |  $       4.52 |
| Popcorn The Bear |  $       3.24 |
| Ramble The Dog |  $       2.25 |
| Riggins The Dog |  $       4.25 |
| Sapphire The Bear |  $       4.50 |
| Scares The Bear |  $       1.99 |
| Serenade The Robin |  $       3.80 |
| Snuggins The Dog |  $       6.73 |
| Sparkles The Bear |  $       2.24 |
| Stuffed The Turkey |  $       3.86 |
| Stuffings The turkey |  $       6.66 |
| Surfin' The Octopus |  $       5.99 |
| Thank You Bear |  $       3.75 |
| Tinsel The Dog |  $       3.30 |
| Tortuga The Sea Turtle |  $       4.37 |
| Trident The Seahorse |  $       6.67 |
| Virunga The Gorilla |  $       2.90 |
| Zoomer The Monkey |  $       6.40 |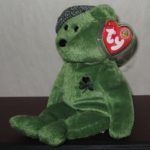 BBOM Lot's O Luck can sell for over $20