Before making the decision to purchase a Beanie with an incorrect swing tag, bear the following points in mind:
1. Swing tags can easily be swapped or removed, making it impossible to verify whether the incorrect tag was a factory mistake or altered later on.
2. Should a flawed-tag Beanie lose its tag, its novelty and value take an immediate hit.
3. For many—especially kids—the joy of acquiring a new Beanie is tied to having the proper birthday and poem on the tag, not those of another Beanie.
4. The consensus among collectors is that a Beanie with an incorrect tag is generally no more valuable than the same Beanie without any tag at all.
VIEW other Beanie Babies Errors HERE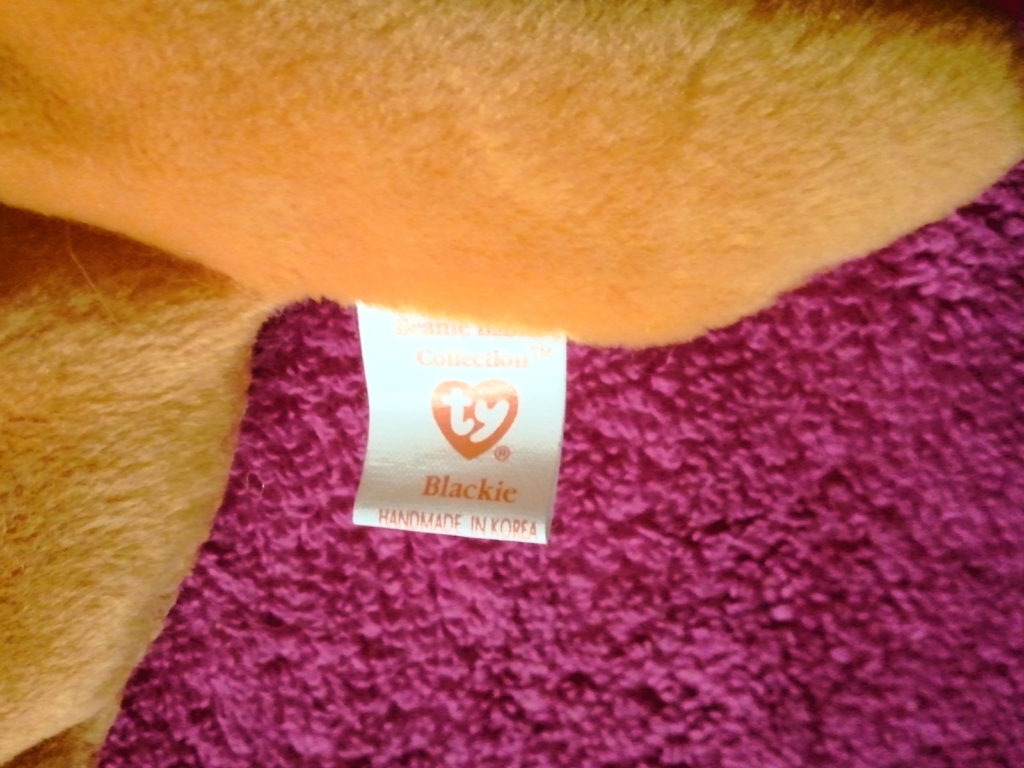 Here is a list we've accumulated over the years of Beanie Babies with incorrect tags:
Ally with Bones Tush Tag
Ally with Claude Swing Tag
Ally with Congo Tush Tag
Ally with Inky Tush Tag
Ally with Legs Tush Tag
Ally with Lizzy Swing Tag
Ally with Mel Swing Tag
Ally with Patti Swing Tag
Ally with Patti Tush Tag
Ally with a Seamore Tush Tag
Ally with Seamore Swing Tag
Ally with Sly Swing Tag
Ally with Sly Tush Tag
Ally with Twigs Swing Tag
Ants with Batty Tush Tag
Ants with Bongo Tush Tag
Ants with Bruno Swing Tag
Ants with Roary Tush Tag
Baldy with Bessie Swing Tag
Baldy with Blizzard Tush Tag
Baldy with Dotty Tush Tag
Baldy with Hippity Swing Tag
Baldy with Floppity Tush Tag
Baldy with Hippity Tush Tag
Baldy with Hippity Swing Tag
Baldy with Nip Tush Tag
Baldy with Nuts Swing Tag
Baldy with Prance Tush Tag
Baldy with Puffer Tush Tag
Baldy with Snort Tush Tag
Baldy with Snowball Tush Tag
Baldy with Strut Swing Tag
Baldy with Tuffy Tush Tag
Baldy with Weenie Tush Tag
Baldy with Zip tag
Batty with Bongo Tush Tag
Batty with Britannia Tush Tag
Batty with Bucky Swing Tag
Batty with Chocolate Swing Tag
Batty with Derby Swing Tag
Batty with Derby Tush Tag
Batty with Doby Tush Tag
Batty with Ears Swing Tag
Batty with Fetch Tush Tag
Batty with Fleece Tush Tag
Batty with Freckles Tush Tag
Batty with Gobbles Tush Tag
Batty with Gracie Swing Tag
Batty with Hissy Tush Tag
Batty with Iggy Swing Tag
Batty with Inch Swing Tag
Batty with Peace Tush Tag
Batty with Pouch Tush Tag
Batty with Ringo Tush Tag
Batty with Roary Tush Tag
Batty with Scoop Swing Tag
Batty with Snip Tush Tag
Batty with Spinner Tush Tag
Batty with Waddle Tush Tag
Batty with Waddle Swing Tag
Batty with Zip Tush Tag
Beak with Derby Tush Tag
Beak with Scat Swing Tag
Beak with Stinger Swing Tag
Bernie with Batty Swing Tag
Bernie with Blizzard Tush Tag
Bernie with Bubbles Tush Tag
Bernie with Bucky Tush Tag
Bernie with Bucky Swing Tag
Bernie with Crunch tag
Bernie with Chocolate Swing Tag
Bernie with Daisy Tush Tag
Bernie with Doby Tush Tag
Bernie with Doby Swing Tag
Bernie with Ears Swing Tag
Bernie with Ears Tush Tag
Bernie with Fleece Tush Tag
Bernie with Fleece Swing Tag
Bernie with Freckles Tush Tag
Bernie with Hoppity Swing Tag
Bernie with Hoppity Tush Tag
Bernie with Jolly Tush Tag
Bernie with Jolly Swing Tag
Bernie with Princes Tush Tag
Bernie with Pugsly Tush Tag
Bernie with Pugsly swing & Tush Tag
Bernie with Scoop Swing Tag
Bernie with Stinger Tush Tag
Bessie with Ears Swing Tag
Bessie with Floppirty Tush Tag
Bessie with Lefty Swing Tag
Bessie with Nuts Swing Tag
Bessie with Nuts Tush Tag
Bessie with Snort Tush Tag
Bessie with Teddy Swing Tag
Bessie with Tusk Tush Tag
Bessie with Tusk Swing Tag
Bessie with Weenie Swing Tag
Bessie with Weenie Tush Tag
Bessie with Zip Swing Tag
Blackie with Britannia Tush Tag
Blackie with Churchill (plush) Swing Tag
Blackie with Curly Tush Tag
Blackie with Garcia Swing Tag
Blackie with Pinchers Swing Tag
Blackie with Slither Swing Tag
Blackie with Squealer Tush Tag
Blackie with Strut Swing Tag
Blackie with Valentino Tush Tag
Blizzard with Bones Swing Tag
Blizzard with Bones Tush Tag
Blizzard with Bucky Tush Tag
Blizzard with Bucky Swing Tag
Blizzard with Ears Swing Tag
Blizzard with Ears Tush Tag
Blizzard with Freckles Tush Tag
Blizzard with Freckles Swing Tag
Blizzard with Hissy Swing Tag
Blizzard with Hoppity Tush Tag
Blizzard with Iggy Tush Tag
Blizzard with Mel Swing Tag
Blizzard with Puffer Tush Tag
Blizzard with Ringo Tush Tag
Blizzard with Scoop Tush Tag
Blizzard with Spinner Swing Tag
Blizzard with Stripes Tush Tag
Blizzard with Stripes Swing Tag
Blizzard with Wrinkles Swing Tag
Bones with Blackie Tush Tag
Bones with Blizzard Tush Tag
Bones with Bubbles Swing Tag
Bones with Chip Tush Tag
Bones with Daisy Tush Tag
Bones with Derby Tush Tag
Bones with Ears Tush Tag
Bones with Gracie Tush Tag
Bones with Hissy Tush Tag
Bones with Hoppity Tush Tag
Bones with Peanut Tush Tag
Bones with Pinky Tush Tag
Bones with Puffer Tush Tag
Bones with Quackers Swing Tag
Bones with Scoop Swing Tag
Bones with Seaweed swing & Tush Tags
Bones with Spot Tush Tag
Bones with Spunky Tush Tag
Bones with Spunky Swing Tag
Bones with Tank Swing Tag
Bones with Waddle Swing Tag
Bones with Wrinkles Swing Tag
Bones with Wrinkles Tush Tag
Bongo with Batty Tush Tag
Bongo with Bones tag
Bongo with Bucky Tush Tag
Bongo with Crunch Tush Tag
Bongo with Derby Tush Tag
Bongo with Fetch Tush Tag
Bongo with Fluffy (plush) Swing Tag
Bongo with Gobbles Tush Tag
Bongo with Happy Swing Tag
Bongo with Mystic Tush Tag
Bongo with Nana Swing Tag
Bongo with Nip Swing Tag
Bongo with Peanut Swing Tag
Bongo with Pouch Swing Tag
Bongo with Quackers Tush Tag
Bongo with Scoop Swing Tag
Bongo with Snort Tush Tag
Bongo with Stinky Tush Tag
Bongo with Tank Swing Tag
Bongo with a Teddy Tush Tag
Bongo with Tuffy Swing Tag
Bongo with Twigs Swing Tag
Bongo with Stinky Swing Tag
Bongo with Stinky Tush Tag (dark tail)
Bongo with Waddle Tush Tag
Bongo with Weenie Swing Tag
Bongo with Weenie Tush Tag
Bongo with Ziggy Swing Tag
Britannia with Fleece sewn in Tush Tag
Britannia with Glory Tush Tag
Britannia with Jake Tush Tag
Britannia with Jake swing and Tush Tags
Britannia with Princess swing and Tush Tags
Bruno with Ants Swing Tag
Bruno with Bones Tush Tag
Bruno with Daisy Tush Tag
Bruno with Spooky Swing Tag
Bruno with Rover Tush Tag
Bruno with Smoochy Tush Tag
Bubbles with Bernie Tush Tag
Bubbles with Bumble Swing Tag
Bubbles with Derby Swing Tag
Bubbles with Hoot Tush Tag
Bubbles with Snip Swing Tag
Bubbles with Waddle Swing Tag
Bubbles with Waddle Tush Tag
Bubbles with Ziggy Tush Tag
Bubbles with Ziggy Swing Tag
Bubbles with Zip Swing Tag
Bucky with Bernie Swing Tag
Bucky with Bessie Tush Tag
Bucky with Bongo Tush Tag
Bucky with Chip Tush Tag
Bucky with Freckles Tush Tag
Bucky with Garcia Swing Tag
Bucky with Jolly Swing Tag
Bucky with Lucky Tush Tag
Bucky with Scoop Tush Tag
Bucky with Waddle Tush Tag
Bucky Swing Tag on Purrr Pillow Pal
Butch with Batty Swing Tag
Canyon with Peace Swing Tag
Canyon with Pounce Swing Tag
Canyon with Prance Swing Tag
Caw with Kiwi Tush Tag
Chilly with Humphrey Swing Tag
Chilly with Inky Swing Tag
Chip with Baldy Tush Tag
Chip with Cubbie Tush Tag
Chip with Cubbie Swing Tag
Chip with Doby Swing Tag
Chip with Dotty Tush Tag
Chip with Dotty Swing Tag
Chip with Gobbles Swing Tag
Chip with Legs Tush Tag
Chip with Prance Tush Tag
Chip with Prance swing and Tush Tag
Chip with Roary Tush Tag
Chip with Snip Tush Tag
Chip with Snowball Swing Tag
Chip with Stinky Tush Tag
Chipper with Honks Swing Tag
Chocolate with Batty Swing Tag
Chocolate with Bernie Tush Tag
Chocolate with Bucky Swing Tag
Chocolate with Chops Swing Tag
Chocolate with Creepy Tush Tag
Chocolate with Crunch Tush Tag
Chocolate with Daisy Tush Tag
Chocolate with Ears Tush Tag
Chocolate with Fleece Tush Tag
Chocolate with Goldie Tush Tag
Chocolate with Happy Tush Tag
Chocolate with Happy Swing Tag
Chocolate with Jolly Swing Tag
Chocolate with Lizzy Swing Tag
Chocolate with Pinchers Tush Tag
Chocolate with Ringo Tush Tag
Chocolate with Rover Tush Tag
Chocolate with Scoop Tush Tag
Chocolate with Speedy Swing Tag
Chocolate with Spot Tush Tag
Chocolate with Squealer Tush Tag
Chocolate with Squealer swing and Tush Tag
Chocolate with Waves Swing Tag
Chops with Ally Swing Tag
Chops with Coral Tush Tag
Chops with Derby Tush Tag
Chops with Derby Swing Tag
Chops with Kiwi Tush Tag
Chops with Pinky Tush Tag
Chops with Pinky Swing Tag
Chops with Rover Tush Tag
Chops with Spike Swing Tag
Chops with Tusk Swing Tag
Chops with Twigs Swing Tag
Chops with Weenie Swing Tag
Claude with Digger Tush Tag
Claude with Erin Tush Tag
Claude with Iggy Tush Tag
Claude with Inky Tush Tag
Claude with Jolly Swing Tag
Claude with Legs Tush Tag
Claude with Nanook Swing Tag
Claude with Puffer Tush Tag
Claude with Pugsly Swing Tag
Claude with Rainbow Tush Tag
Claude with Seaweed Swing Tag
Claude with Snowball Tush Tag and double Swing Tags
Claude with Snowball Swing Tag
Claude with Snowball Tush Tag
Claude with Waddle Swing Tag
Claude with Weenie swing and Tush Tags
Clubby with Fortune Swing Tag
Clubby II with Spangle Swing Tag
Congo with Batty Tush Tag
Congo with Bucky Tush Tag
Congo with Chocolate Tush Tag
Congo with Derby Swing Tag
Congo with Dotty Tush Tag
Congo with Gracie Swing Tag
Congo with Happy Swing Tag
Congo with Hippity Tush Tag
Congo with Hoppity Tush Tag
Congo with Legs Tush Tag
Congo with Legs Swing Tag
Congo with Nip Swing Tag
Congo with Pinky Tush Tag
Congo with Righty Tush Tag
Congo with Ringo Tush Tag
Congo with Rover Swing Tag
Congo with Scottie Swing Tag
Congo with Scottie Tush Tag
Congo with Sly Tush Tag
Congo with Snip Tush Tag
Congo with Snort Tush Tag
Congo with Spike Tush Tag
Congo with Sting Tush Tag
Congo with Stinger Swing Tag
Congo with Strut Tush Tag
Congo with Velvet Tush Tag
Congo with Weenie tag
Congo with Zip Tush Tag
Coral with Bubbles Swing Tag
Coral with Digger Tush Tag
Coral with Freckles tag
Coral with Goldie Swing Tag
Coral with Lefty Tush Tag
Coral with Peanut tag
Coral with Peanut Swing Tag
Coral with Rover Tush Tag
Coral with Snip Swing Tag
Coral with Wrinkles Tush Tag
Coral with Ziggy Tush Tag
Crunch with Bernie Swing Tag
Crunch with Fleece Swing Tag
Crunch with Fleece Tush Tag
Crunch with Goldie Tush Tag
Crunch with Gracie Tush Tag
Crunch with Happy Tush Tag
Crunch with Inch Tush Tag
Crunch with Inky Tush Tag
Cubbie with Blackie Tush Tag
Cubbie with Brownie Swing Tag
Cubbie with Bubbles tag
Cubbie with Bucky Swing Tag
Cubbie with Chip Swing Tag
Cubbie with Crunch Tush Tag
Cubbie with Garcia Swing Tag
Cubbie with Gobbles Tush Tag
Cubbie with Goldie Tush Tag
Cubbie with Maple Tush Tag
Cubbie with Snowball Tush Tag
Cubbie with Squealer Swing Tag
Cubbie with Tuffy Swing Tag
Cubbie with Tuffy swing and Tush Tag
Cubbie with Tuffy Tush Tag
Cubbie with Twigs Tush Tag
Cubbie with Weenie Tush Tag
Curly with Cubbie Tush Tag
Curly with Bernie Tush Tag
Curly with Blackie Swing Tag
Curly with Blackie Tush Tag
Curly with Garcia Tush Tag
Curly with Peace Tush Tag
Curly with Squealer Tush Tag
Curly with Strut Swing Tag
Curly with Strut Tush Tag
Curly with Teddy Swing Tag
Curly with Teddy Tush Tag
Curly with Valentino Tush Tag
Curly with Valentino Swing Tag
Daisy with Bernie tag
Daisy with Bones Swing Tag
Daisy with Bones Tush Tag
Daisy with Doby Swing Tag
Daisy with Doby Tush Tag
Daisy with Doby swing and Tush Tags
Daisy with Inch Swing Tag
Daisy with Jolly Tush Tag
Daisy with Lizzy Swing Tag
Daisy with Mel Swing Tag
Daisy with Mystic Swing Tag
Daisy with Mystic Tush Tag
Daisy with Mystic swing and Tush Tag
Daisy with Nuts Tush Tag
Daisy with Pinchers Swing Tag
Daisy with Scottie Tush Tag
Daisy with Smoochy Swing Tag
Daisy with Spot Tush Tag
Daisy with Squealer Swing Tag
Daisy with Stinky Tush Tag
Daisy with 1997 Teddy Swing Tag
Daisy with Valentino Swing Tag
Derby with Batty Swing Tag
Derby with Curly Swing Tag
Derby with Congo Swing Tag
Derby with Mel Tush Tag
Derby with Pinky Swing Tag
Derby with Pinky Tush Tag
Derby with Pouch Tush Tag
Derby with Quackers Tush Tag
Derby with Ringo Tush Tag
Derby with Sly Tush Tag
Derby with Spike Swing Tag
Derby with Spunky Tush Tag
Derby with Stinky Tush Tag
Derby with Stretch Tush Tag and Iggy Swing Tag
Derby with Valentino Tush Tag
Derby with Ziggy Swing Tag
Derby with Ziggy Tush Tag
Digger with Claude Tush Tag
Digger with Happy Tush Tag
Digger with Inky Swing Tag
Digger with Legs swing and Tush Tag
Doby with Batty Tush Tag
Doby with Bernie Swing Tag
Doby with Daisy Swing Tag
Doby with Daisy Tush Tag
Doby with Fleece Tush Tag
Doby with Lizzy Tush Tag
Doby with Rover Tush Tag
Doby with Rover Swing Tag
Doby with Rover Tush Tag
Doby with Splash Tush Tag
Doby with Teddy 1997 Tush Tag
Doby with Waves Swing Tag
Doodle with Bessie Tush Tag
Doodle with Floppity swing and Tush Tag
Doodle with Hoot Tush Tag
Doodle with Lucky Tush Tag
Doodle with Nip Swing Tag
Doodle with Snip Tush Tag
Doodle with Snort Tush Tag
Doodle with Strut Tush Tag
Doodle with Quackers Tush Tag
Doodle with Snip Tush Tag
Dotty with Chip Swing Tag
Dotty with Congo Swing Tag
Dotty with Gobbles Swing Tag
Dotty with Gracie Swing Tag
Dotty with Maple Swing Tag
Dotty with Nip Swing Tag
Dotty with Prance Swing Tag
Dotty with Prance Tush Tag
Dotty with Rover Tush Tag
Dotty with Scotty Swing Tag
Dotty with Scotty Tush Tag
Dotty with Seaweed Tush Tag
Dotty with Snip Swing Tag
Dotty with Sparky Tush Tag
Dotty with Sparky Swing Tag
Dotty with Tuffy Tush Tag
Dotty with Twigs Tush Tag
Dotty with Twigs Swing Tag
Dotty with Wrinkles Swing Tag
Dotty with Zip Swing Tag
Early with Sly Tush Tag
Early with Stretch Swing Tag
Early with Stretch Tush Tag
Early with Tracker Tush Tag
Early with Whisper swing and Tush Tags
Ears with Bernie Swing Tag
Ears with Bernie Tush Tag
Ears with Blizzard Tush Tag
Ears with Bones Tush Tag
Ears with Bongo Tush Tag
Ears with Chocolate Swing Tag
Ears with Daisy Tush Tag
Ears with Freckles Tush Tag
Ears with Hoot Tush Tag
Ears with Iggy Tush Tag
Ears with Manny Swing Tag
Ears with Mel Tush Tag
Ears with Nanook Swing Tag
Ears with Patti Swing Tag
Ears with Pinky Tush Tag
Ears with Pouch Tush Tag
Ears with Scoop Swing Tag
Ears with Spike Tush Tag
Ears with Spike Swing Tag
Ears with Spinner Tush Tag
Ears with Spooky Swing Tag
Ears with Stretch Tush Tag
Ears with Velvet Tush Tag
Ears with Waddle Swing Tag
Echo with Bongo Tush Tag
Echo with Chip sewn in Tush Tag
Echo with Goldie Swing Tag
Echo with Goldie Tush Tag
Echo with Lizzy Tush Tag
Echo with Rover Tush Tag
Echo with Speedy Swing Tag
Echo with Waves swing and Tush Tags
Echo with Waves Swing Tag and Chocolate Tush Tag
Echo with Waves Swing Tag, and Mystic Tush Tag
Echo with Puffer Tush Tag
Echo with Puffer Swing Tag
Erin with Derby Tush Tag
Erin with Iggy Swing Tag
Erin with Lucky Swing Tag
Erin with Millennium Swing Tag
Erin with Peace Swing Tag
Erin with Princess Tush Tag
Erin with Princess Swing Tag
Erin with Purr (Pillow Pal) Swing Tag
Eucalyptus with Tiptoe Tush Tag
Ewey with Patti Beanie Buddy Swing Tag
Fetch with Snip Swing Tag
Flash with Bones tag
Flash with Chocolate Swing Tag
Flash with Daisy Swing Tag
Flash with Inky Swing Tag
Flash with Mystic tag
Flash with Patti Swing Tag
Flash with Patti Tush Tag
Flash with Pinky Swing Tag
Fleece with Bernie Tush Tag
Fleece with Bessie Tush Tag
Fleece with Crunch Tush Tag
Fleece with Doby Swing Tag
Fleece with Doby Tush Tag
Fleece with Dotty Swing Tag
Fleece with Dotty Tush Tag
Fleece with Freckles Tush Tag
Fleece with Inch Tush Tag
Fleece with Lizzy Tush Tag
Fleece with Nuts Tush Tag
Fleece with Quackers Tush Tag
Fleece with Scoop Swing Tag
Fleece with Snip Swing Tag
Flip with Baldy Swing Tag
Flip with Kiwi Tush Tag
Flip with Nip Tush Tag
Flip with Nip Swing Tag
Flip with Zip Tush Tag
Fleece with Scoop Swing Tag
Flip with Snort Swing Tag
Flip with Sparky Tush Tag
Flip with Twigs Tush Tag
Flip with Wrinkles Tush Tag
Flip with Zip Tush Tag
Floppity with Doodle Tush Tag
Floppity with Freckles Tush Tag
Floppity with Hippity Tush Tag
Floppity with Hoppity Tush Tag
Floppity with Lucky Tush Tag
Floppity with Ringo Tush Tag
Floppity with Valentino Swing Tag
Fortune with Erin Swing Tag
Fortune with Nuts sewn in Tush Tag
Fortune with Princess Swing Tag
Fortune with Princess Tush Tag
Fortune with Spike Tush Tag
Freckles with Batty Swing Tag
Freckles with Blizzard Tush Tag
Freckles with Bones Tush Tag
Freckles with Doby Tush Tag
Freckles with Dotty Tush Tag
Freckles with Ears Tush Tag
Freckles with Hoot Tush Tag
Freckles with Hissy Swing Tag
Freckles with "Huggy" (plush) Swing Tag
Freckles with Iggy Tush Tag
Freckles with Lucky Swing Tag
Freckles with Lucky Tush Tag
Freckles with Manny Swing Tag
Freckles with Mel Tush Tag
Freckles with Princess Swing Tag
Freckles with Pugsly Swing Tag
Freckles with Pugsly Tush Tag
Freckles with Seaweed Swing Tag
Freckles with Scottie Swing Tag
Freckles with Spooky Swing Tag
Freckles with Spooky Tush Tag
Freckles with Squealer tag
Freckles with Stripes Swing Tag
Freckles with Stripes Tush Tag
Freckles with Velvet Swing Tag
Freckles with Velvet Tush Tag
Freckles with Waddles Swing Tag
Freckles with Wrinkles Tush Tag
Freckles with Wrinkles Tush Tag & wrong birthdate
Garcia with Curly Swing Tag
Garcia with Freckles Swing Tag
Garcia with Gracie Swing Tag
Garcia with Peace Swing Tag
Garcia with Peace Tush Tag
Garcia with Tank Swing Tag
Garcia with Spike Swing Tag
Garcia with Spooky Swing Tag
Garcia with Teddy Tush Tag
Garcia with Valentino Swing Tag
Gigi with Iggy Tush Tag
Gigi with Jabber Swing Tag
Gigi with Kuku Swing Tag
Glory with Erin Tush Tag
Glory with Fortune Tush Tag
Glory with Nuts Tush Tag
Glory with Pouch Swing Tag
Goatee with Scat Tush Tag
Goatee with Smoochy Swing Tag
Gobbles with Batty Tush Tag
Gobbles with Bessie Swing Tag
Gobbles with Bongo Tush Tag
Gobbles with Dotty Tush Tag
Gobbles with Early Swing Tag
Gobbles with Freckles Tush Tag
Gobbles with Inky Tush Tag
Gobbles with Jabber Swing Tag
Gobbles with Prance Swing Tag
Gobbles with Prance Tush Tag
Gobbles with Scoop Swing Tag
Gobbles with Snip Tush Tag
Gobbles with Stinky Tush Tag
Gobbles with Tuffy Swing Tag
Gobbles with Twigs Tush Tag
Gobbles with Weenie Tush Tag
Gobbles with a Swing Tag on each wing
Goldie with Chocolate Tush Tag
Goldie with Crunch Tush Tag
Goldie with Cubbie Tush Tag
Goldie with Daisy Swing Tag
Goldie with Gobbles Tush Tag
Goldie with Inch Tush Tag
Goldie with Lizzy Swing Tag
Goldie with Lizzy Tush Tag
Goldie with Pinchers Tush Tag
Goldie with Radar Tush Tag
Goldie with Spalsh Tush Tag
Goldie with Waves Swing Tag
Goochy with Hope Tush Tag
Gracie with Batty Swing Tag
Gracie with Batty Tush Tag
Gracie with Bones Swing Tag
Gracie with Bucky Tush Tag
Gracie with a Ears tush and Swing Tag
Gracie with Crunch Tush Tag
Gracie with Dotty Swing Tag
Gracie with Dotty Tush Tag
Gracie with Goldie Tush Tag
Gracie with Happy Swing Tag
Gracie with Magic Swing Tag
Gracie with Mel Swing Tag
Gracie with Pouch Swing Tag
Gracie with Pugsly Tush Tag
Gracie with Quackers Tush Tag
Gracie with Sly Tush Tag
Gracie with Stripes Swing Tag
Gracie with Stripes Tush Tag
Grunt with Chocolate Swing Tag
Grunt with Hoot Swing Tag
Grunt with Kiwi Tush Tag
Grunt with Magic Tush Tag
Grunt with Quackers Tush Tag
Grunt with Radar Tush Tag
Gracie with Scoop Swing Tag
Gracie with Scoop Tush Tag
Gracie with Stripes Swing Tag
Grunt with Freckles Tush Tag
Grunt with Spooky Swing Tag
Grunt with Velvet swing and Tush Tags
Halo with Millenium Swing Tag
Happy with Echo Tush Tag
Happy with Goldie Swing Tag
Happy with Inch Swing Tag
Happy with Legs Tush Tag
Happy with Legs Swing Tag
Happy with Lizzy Tush Tag
Happy with Pinchers Tush Tag
Happy with Scoop Swing Tag
Happy with Spot Tush Tag
Happy with 1997 Teddy Tush Tag
Happy with Waves Tush Tag
Hippie with Nibbly Tush Tag
Hippity with Bongo Swing Tag
Hippity with Coal (from plush line) Swing Tag
Hippity with Flip Tush Tag
Hippity with Floppity Swing Tag
Hippity with Floppity Tush Tag
Hippity with Hoppity Tush Tag
Hippity with Scottie Tush Tag
Hippity with Snip Tush Tag
Hippity with Snort Tush Tag
Hippity with Tuffy Tush Tag
Hippity with Weenie Tush Tag
Hissy with Bones Swing Tag
Hissy with Bones Tush Tag
Hissy with Ears Swing Tag
Hissy with Iggy Tush Tag
Hissy with Mel Swing Tag
Hissy with Nuts Swing Tag
Hissy with Nuts Tush Tag
Hissy with Pouch Swing Tag
Hissy with Princess Swing Tag
Hissy with Rainbow Tush Tag
Hissy with Rainbow Swing Tag
Hissy with Roary Swing Tag
Hissy with Spinner Swing Tag
Hissy with Stretch Tush Tag
Hissy with Stripes Tush Tag
Hissy with Wrinkles Swing Tag
Hissy with Wrinkles Tush Tag
Hissy with Wrinkles swing and Tush Tag
Hoot with Gracie Tush Tag
Hoot with Ringo Swing Tag
Hoot with Roary Swing Tag
Hoot with Spinner Tush Tag
Hoot with Squealer Tush Tag
Hoot with Stripes Swing Tag
Hoot with Stripes Tush Tag
Hoot with Tank Swing Tag
Hoot with Tank Tush Tag
Hoot with Waddle Tush Tag
Hoot with Woof (plush) Swing Tag
Hoot with Zip Swing Tag
Hoot with Zip Tush Tag
Hope with Mystic Swing Tag
Hoppity with 2 Tush Tags
Hoppity with Bones Tush Tag
Hoppity with a Claude Swing Tag
Hoppity with Ears Swing Tag
Hoppity with Freckles tag
Hoppity with Floppity Tush Tag
Hoppity with Gracie Swing Tag
Hoppity with Hippity Swing Tag
Hoppity with Mel Swing Tag
Hoppity with Peace Swing Tag
Hoppity with Peanut Tush Tag
Hoppity with Pouch Tush Tag
Hoppity with Ringo Tush Tag
Hoppity with Roary Tush Tag
Hoppity with Roary Swing Tag
Hoppity with Scoop Swing Tag
Hoppity with Seaweed Tush Tag
Hoppity with Wrinkles Tush Tag
Hoppity with Ziggy Swing Tag
Iggy with Britannia Swing Tag
Iggy with Chocolate Tush Tag
Iggy with Quackers Tush Tag
Iggy with Iggy Tush Tag and Spike Swing Tag
Iggy with Rainbow Swing Tag and Erin Tush Tag
Iggy with Rainbow Tush Tag and Hissy Swing Tag
Iggy with Rainbow Swing Tag and Hissy Tush Tag
Iggy with Rainbow Tush Tag and Iggy Swing Tag
Iggy with Rainbow Tush Tag and Mel Swing Tag
Iggy with Rainbow Swing Tag and Nanook Tush Tag
Iggy with Rainbow Swing Tag and Peanut Tush Tag
Iggy with Rainbow swing and Princess Tush Tag
Iggy with Rainbow Tush Tag and Princess Swing Tag
Iggy with Rainbow Tush Tag and Puffer Swing Tag
Iggy with Rainbow swing and Rainbow Tush Tag (entire 1st production run this way)
Iggy with Rainbow Swing Tag and Roary Tush Tag
Iggy with Rainbow Swing Tag and Iggy Tush Tag
Iggy with Rainbow Swing Tag and Seaweed Tush Tag
Iggy with Rainbow Swing Tag and Spooky Tush Tag
Iggy with Rainbow Tush Tag and Spinner Swing Tag
Iggy with Rainbow Swing Tag and Spinner Tush Tag
Iggy with Rainbow Swing Tag and Spunky Tush Tag
Iggy with Rainbow Swing Tag and Iggy Tush Tag
Iggy with Rainbow Tush Tag and Stripes Swing Tag
Iggy with Rainbow Tush Tag and Strut Swing Tag
Iggy with Spunky Tush Tag
Inch with Teddy 1997 Tush Tag
Inch with Batty Swing Tag
Inch with Daisy Swing Tag
Inch with Goldie Tush Tag
Inch with Teddy Swing Tag
Inch with Wrinkles Swing Tag
Inky with Blackie Tush Tag
Inky with Daisy Tush Tag
Inky with Gobbles Tush Tag
Inky with Legs Swing Tag
Inky with Patti Swing Tag
Inky with Pounce Tush Tag
Inky with Prance Tush Tag
Inky with Speedy tag
Inky with Twigs Tush Tag
Jabber with Gobbles Swing Tag
Jake with Snort Swing Tag
Jolly with Bernie Swing Tag
Jolly with Bernie Tush Tag
Jolly with Bucky Tush Tag
Jolly with Claude Swing Tag
Jolly with Daisy Swing Tag
Jolly with Doby Swing Tag
Jolly with Ears Tush Tag
Jolly with Echo Swing Tag
Jolly with Lizzy Swing Tag
Jolly with Mystic Swing Tag
Jolly with Mystic Tush Tag
Jolly with Nanook Swing Tag
Jolly with Nanook Tush Tag
Jolly with Pinky Swing Tag
Jolly with Pouch Tush Tag
Jolly with Pounce Tush Tag
Jolly with Puffer Tush Tag
Jolly with Rainbow Tush Tag
Jolly with Rover Swing Tag
Jolly with Seaweed Swing Tag
Jolly with Scoop Swing Tag
Jolly with Waddles Tush Tag
Kicks with Scorch Swing Tag
Kiwi with Ally Swing Tag
Kiwi with Bumble Tush Tag
Kiwi with Quackers Tush Tag
Kiwi with Rex Swing Tag
Kiwi with Scoop Swing Tag
Kiwi with Seaweed Swing Tag
Kiwi with Seaweed Tush Tag
Kiwi with Spooky Tush Tag
Kiwi with Tank Swing Tag
Knuckles with Eucalyptus Tush Tag
Kuku with Tracker Tush Tag
Lefty with Coral Tush Tag
Lefty with Magic Swing Tag
Lefty with Righty Swing Tag
Lefty with Righty Tush Tag
Lefty with Squealer Swing Tag
Lefty with Tabasco Tush Tag
Lefty with Ziggy Swing Tag
Legs with Ally Tush Tag
Legs with Chip Tush Tag
Legs with Congo Tush Tag
Legs with Claude Swing Tag
Legs with Cubbie Tush Tag and Magic Swing Tag
Legs with Digger swing and Tush Tag
Legs with Gobbles Tush Tag
Legs with Inch Swing Tag
Legs with Mystic Tush Tag
Legs with Pinchers Swing Tag
Legs with Sly Tush Tag
Legs with Snort Tush Tag
Legs with Stinky Swing Tag
Legs with Stinky Tush Tag
Legs with Velvet Tush Tag
Libearty with Bucky Swing Tag
Libearty with Cubby Swing Tag
Libearty with Curly Swing Tag
Libearty with Daisy Tush Tag
Libearty with Flip Tush Tag
Libearty with Gracie Swing Tag
Libearty with Nip Swing Tag
Libearty with Teddy Tush Tag
Libearty with Valentino Swing Tag
Libearty with Valentino Tush Tag
Lips with Tiny Swing Tag(many reported)
Lizzy with Batty Swing Tag
Lizzy (tie-dyed) with Bones Swing Tag
Lizzy with Chocolate Tush Tag
Lizzy with Daisy Tush Tag
Lizzy with Doby Swing Tag
Lizzy with Flash Swing Tag
Lizzy with Fleece Tush Tag
Lizzy with Floppity Tush Tag
Lizzy with Goldie Swing Tag
Lizzy with Happy Tush Tag
Lizzy with Hoot Swing Tag
Lizzy with Rover Tush Tag
Lizzy with Speedy Swing Tag
Lizzy with Splash Tush Tag
Lizzy with Spot Swing Tag
Lizzy with Twigs Swing Tag
Lizzy with Waves Tush Tag
Lizzy with Waves swing and Tush Tag
Lucky with Batty Swing Tag
Lucky with Bessie Tush Tag
Lucky with Blizzard Swing Tag
Lucky with Blizzard Tush Tag
Lucky with Bongo Swing Tag
Lucky with Bucky Tush Tag
Lucky with Derby Tush Tag
Lucky (21-dot) with a Doodle Tush Tag
Lucky with Floppity Tush Tag
Lucky with Freckles Tush Tag
Lucky with Freckles Swing Tag
Lucky with Ringo Tush Tag
Lucky with Ringo Swing Tag
Lucky with Scoop Swing Tag
Lucky with Snort Tush Tag
Lucky with Sparky Swing Tag
Lucky with Spooky Tush Tag
Lucky with Stripes Swing Tag
Lucky with Wrinkles Tush Tag
Magic with Batty Swing Tag
Magic with Ears Tush Tag
Magic with Gracie Tush Tag
Magic with Gracie Swing Tag
Magic with Maple Tush Tag
Magic with Mystic tag
Magic with Pinky Tush Tag
Magic with Spooky Swing Tag
Magic with Sting Tush Tag
Magic with Ziggy Swing Tag
Magic with Ziggy Tush Tag
Manny with Chops Swing Tag
Manny with Coral Tush Tag
Manny with Flash Tush Tag
Manny with Peanut Tush Tag
Manny with Quackers Tush Tag
Manny with Scoop Swing Tag
Manny with Squirt (Pillow Pal) Swing Tag
Manny with Sting Tush Tag
Manny with Seaweed Tush Tag
Manny with Stripes Swing Tag
Manny with Tabasco tag
Manny with Twigs Swing Tag
Manny with Ziggy Swing Tag
Maple with Curly Tush Tag
Maple with Mystic Tush Tag
Maple with Pride Tush Tag
Maple with Tuffy Tush Tag
Maple with Valentino Swing Tag
Maple with Valentino Tush Tag
Mel with Blizzard Swing Tag
Mel with Ears Tush Tag
Mel with Freckles Tush Tag
Mel with Hoppity Swing Tag
Mel with Jolly Swing Tag
Mel with Jolly Tush Tag
Mel with Nuts Swing Tag
Mel with Pouch Tush Tag
Mel with Pugsly Tush Tag
Mel with Rainbow Tush Tag
Mel with Ringo Swing Tag
Mel with Ringo Tush Tag
Mel with Seaweed Tush Tag
Mel with Scoop Tush Tag
Mel with Spike Swing Tag
Mel with Spike Tush Tag
Mel with Spooky Tush Tag
Mel with Wrinkles Swing Tag
Mel with Wrinkles Tush Tag
Mel with Velvet Tush Tag
Mel with Zip Tush Tag
Millennium with Butch Tush Tag
Millenium with Goochy Tush Tag
Millenium with Kicks Tush Tag
Millennium with Stilts Swing Tag
Millennium with Tiny Swing Tag
Millennium with Valentina Tush Tag
Mooch with Slippery Tush Tag
Mystic with Batty Swing Tag
Mystic with Bernie Tush Tag
Mystic with Bones Tush Tag
Mystic with Chocolate Tush Tag
Mystic with Doby Tush Tag
Mystic with Daisy Swing Tag
Mystic with Daisy Tush Tag
Mystic with Echo Tush Tag
Mystic with Gracie Swing Tag
Mystic with Jolly Tush Tag
Mystic with Maple Tush Tag
Mystic with 1997 Teddy Tush Tag
Mystic with Waves Tush Tag
Nanook with Bones Tush Tag
Nanook with Chip Tush Tag
Nanook with Claude Swing Tag
Nanook with Ears Swing Tag
Nanook with Ears Tush Tag
Nanook with Gobbles Tush Tag
Nanook with Iggy Tush Tag
Nanook with Nuts Swing Tag
Nanook with Pinky Tush Tag
Nanook with Pounce Tush Tag
Nanook with Puffer Swing Tag
Nanook with Puffer Tush Tag
Nanook with Quackers Swing Tag
Nanook with Ringo Tush Tag
Nanook with Seaweed Tush Tag
Nanook with Seaweed Swing Tag
Nanook with Snowball Swing Tag
Nanook with Spike Tush Tag
Nanook with Spooky Tush Tag
Nanook with Stretch Swing Tag
Nanook with Waddle swing and Tush Tags
Nanook with Whisper sewn in Tush Tag
Nanook with Zip Tush Tag
Nibbler with Nibbly swing and Tush Tag
Niles with Sarge Tush Tag
Nip with Baldy Tush Tag
Nip with Byby Spice Swing Tag
Nip with Flip Tush Tag
Nip with Lizzy Swing Tag
Nip with Patti Tush Tag
Nip with Pounce Tush Tag
Nip with Snort Swing Tag
Nip with Zip Tush Tag
Nip with Zip Swing Tag
Nuts with Bessie Swing Tag
Nuts with Bessie Tush Tag
Nuts with Crunch Tush Tag
Nuts with Dotty Tush Tag
Nuts with Floppity Tush Tag
Nuts with Hippity Tush Tag
Nuts with Hissy Tush Tag
Nuts with Inch Swing Tag
Nuts with Nanook Swing Tag
Nuts with Nip Tush Tag
Nuts with Pounce Tush Tag
Nuts with Sly Tush Tag
Nuts with Snort Swing Tag
Nuts with Spunky Tush Tag
Nuts with Tuffy Tush Tag
Nuts with Zip Tush Tag
Patti with Bones Swing Tag
Patti with Claude Tush Tag
Patti with Doby Swing Tag
Patti with Fleece Tush Tag
Patti with Legs Swing Tag
Patti with Mystic Swing Tag
Patti with Nip Tush Tag
Patti with Nuts Tush Tag
Patti with Peanut Tush Tag
Patti with Stinky Tush Tag
Patti with Teddy Swing Tag
Patti with Weenie Swing Tag
Patti with Zip Tush Tag
Paul with Neon Tush Tag
Peace with Blackie Tush Tag
Peace with Blackie Swing Tag
Peace with Curly Tush Tag
Peace with Garcia Tush Tag
Peace with Roam Swing Tag
Peace with Squealer Swing Tag
Peace with Teddy Swing Tag
Peace with Teddy Tush Tag
Peace with Tuffy Tush Tag
Peace with Tuffy Swing Tag
Peace with Valentino Swing Tag
Peace with Valentino Tush Tag
Peanut with Bones Tush Tag
Peanut with Bongo Swing Tag
Peanut with Derby Tush Tag
Peanut with Jolly Swing Tag
Peanut with Magic Tush Tag
Peanut with Manny Tush Tag
Peanut with Princess Tush Tag
Peanut with Princess hang and Tush Tags
Peanut with Ringo Tush Tag
Peanut with Seaweed Tush Tag
Peanut with Spooky Swing Tag
Peanut with Spot Tush Tag
Peanut with Tank Swing Tag
Peanut with Velvet Tush Tag
Peanut with Waddle Tush Tag
Peanut with Wrinkles Tush Tag
Peanut with Ziggy Tush Tag
Peanut with Ziggy Swing Tag
Pinchers with Chocolate Tush Tag
Pinchers with Chocolate Swing Tag
Pinchers with Legs Swing Tag
Pinchers with Mystic Tush Tag
Pinchers with Patti Swing Tag
Pinchers with Speedy Tush Tag
Pinchers with Squealer Swing Tag
Pinchers with Waves Swing Tag
Pinchers with Waves Tush Tag
Pinky with Bones Tush Tag
Pinky with Chip Tush Tag
Pinky with Chops Tush Tag
Pinky with Derby Tush Tag
Pinky with Gracie Swing Tag
Pinky with Gracie Tush Tag
Pinky with Lucky Tush Tag
Pinky with Mel Tush Tag
Pinky with Pugsly Tush Tag
Pinky with Pugsly Swing Tag
Pinky with Quackers Swing Tag
Pinky with Seaweed Swing Tag
Pinky with Stretch Tush Tag
Pouch with Blackie Swing Tag
Pouch with Bones Swing Tag
Pouch with Bongo Swing Tag
Pouch with Bongo Tush Tag
Pouch with Chocolate Tush Tag
Pouch with Derby Tush Tag
Pouch with Ears Tush Tag
Pouch with Gracie Tush Tag
Pouch with Happy Swing Tag
Pouch with Hissy Swing Tag
Pouch with Hissy Tush Tag
Pounch with Mel Tush Tag
Pouch with Nanook Tush Tag
Pouch with Pinky Tush Tag
Pouch with Quackers Tush Tag
Pouch with Ringo Tush Tag
Pouch with Scoop Swing Tag
Pouch with Spike Swing Tag
Pouch with Spooky Swing Tag
Pouch with Spot Swing Tag
Pouch with Sting tag
Pouch with Valentino Tush Tag
Pouch with Wrinkles Swing Tag
Pounce with Chip Swing Tag
Pounce with Crunch Swing Tag
Pounce with Floppity Tush Tag
Pounce with Inky Tush Tag
Pounce with Nuts sewn in Tush Tag
Pounce with Prance Tush Tag
Pounce with Princess Tush Tag
Pounce with Puffer Tush Tag
Pounce with Quackers Tush Tag
Pounce with Snort Swing Tag
Pounce with Zip Swing Tag
Pounce with Zip Tush Tag
Prance with Baldy Tush Tag
Prance with Chip Swing Tag
Prance with Chip Tush Tag
Prance with Dotty Swing Tag
Prance with Dotty Tush Tag
Prance with Gobble Swing Tag
Prance with Inky Tush Tag
Prance with Pounce Swing Tag
Prance with Pounce Tush Tag
Prance with Roary Tush Tag
Prance with Snip Swing Tag
Prance with Strut Tush Tag
Prance with Tuffy Tush Tag
Prance with Waves Swing Tag
Prance with Wise Swing Tag
Prance with Zip Swing Tag
Prickles with Millenium Tush Tag
Princess with Ears Tush Tag
Princess with Erin Tush Tag
Princess with Glory Tush Tag
Princess with Hissy Swing Tag
Princess with Iggy Tush Tag
Princess with Pouch Tush Tag
Princess with Pouch Swing Tag
Princess with Puffer Tush Tag
Princess with Quackers Tush Tag
Princess with Quackers Swing Tag
Princess with Rainbow Swing Tag
Princess with Seamore Swing Tag
Princess with Smoochy Tush Tag
Princess with Spike Tush Tag
Princess with Spike Swing Tag
Princess with Stretch Swing Tag
Puffer with Derby Swing Tag
Puffer with Ears Tush Tag
Puffer with Hissy Swing Tag
Puffer with Nuts Swing Tag
Puffer with Pounce tag
Puffer with Pounce Swing Tag
Puffer with Scottie Tush Tag
Puffer with Spunky Tush Tag
Puffer with Stretch Swing Tag
Puffer with Tide (Pillow Pal) Swing Tag
Puffer with Whisper Tush Tag
Pugsly with Bernie Tush Tag
Pugsly with Bernie swing and Tush Tag
Pugsly with Blizzard Tush Tag
Pugsly with Cubbie Tush Tag
Puglsy with Derby Swing Tag
Pugsly with Gracie Swing Tag
Pugsly with Gracie Tush Tag
Pugsly with Hoot Tush Tag
Pugsly with Inch Swing Tag
Pugsly with Mel Tush Tag
Pugsly with Nanook Swing Tag
Pugsly with Pinky Tush Tag
Pugsly with Pouch Tush Tag
Pugsly with Scoop Tush Tag
Pugsly with Seaweed Swing Tag
Pugsly with Sly Swing Tag
Pugsly with Velvet Tush Tag
Pugsly with Waves swing and Tush Tag
Pugsly with Waves Tush Tag
Pumkin with Britannia Swing Tag
Pumkin with Jake Swing Tag
Pumkin with Stinger Tush Tag
Quackers with Baldy Tush Tag
Quackers with Blizzard Tush Tag
Quackers with Bones Swing Tag
Quackers with Bones Tush Tag
Quackers with Bucky Tush Tag
Quackers with Chocolate Tush Tag
Quackers with Daisy Tush Tag
Quackers with Ears Swing Tag
Quackers with Freckles Tush Tag
Quackers with Kiwi Tush Tag
Quackers with Patti Tush Tag
Quackers with Pouch Tush Tag
Quackers with Righty Swing Tag
Quackers with 1997 Teddy Tush Tag
Quackers with Speedy Tush Tag
Quackers with Spike tag
Radar with Blizzard Swing Tag
Radar with Congo Tush Tag
Radar with Hoot Tush Tag
Radar with Kiwi Swing Tag
Radar with Ringo Tush Tag
Radar with Stinky Swing Tag
Radar with Stinky Swing Tag and Tush Tag
Radar with Stripes swing-tag
Radar with Velvet Tush Tag
Radar with Zip Swing Tag
Rainbow with Iggy Swing Tag and Blizzard Tush Tag
Rainbow with Iggy Tush Tag and Bones Swing Tag
Rainbow with Iggy Tush Tag and Bucky Swing Tag
Rainbow with Iggy Swing Tag and Derby Tush Tag
Rainbow with Iggy Tush Tag and Ears Swing Tag
Rainbow with Iggy swing and Ears Tush Tag
Rainbow with Iggy tush and Freckles Swing Tag
Rainbow with Iggy Swing Tag and Hissy Tush Tag
Rainbow with Iggy Tush Tag and Hoppity Swing Tag
Rainbow with Iggy swing and Iggy Tush Tag (entire 1st & 2nd production run with this mistake)
Rainbow with Iggy Swing Tag and Quacker Tush Tag
Rainbow with Iggy Swing Tag and Pouch Tush Tag
Rainbow with Iggy Swing Tag and Pounce Tush Tag
Rainbow with Iggy Swing Tag and Princess Tush Tag
Rainbow with Iggy Swing Tag and Pugsly Tush Tag
Rainbow with Iggy Tush Tag and Rainbow Swing Tag
Rainbow with Iggy Tush Tag and Ringo Tush Tag
Rainbow with Iggy Swing Tag and Roary Tush Tag
Rainbow with Iggy Swing Tag and Spike Tush Tag
Rainbow with Iggy Swing Tag and Stretch Tush Tag
Rainbow with Stinger Tush Tag
Rex with an Ears Swing Tag
Righty with Freckles tag
Righty with Peanut Swing Tag
Righty with Quackers Tush Tag
Righty with Seaweed Swing Tag
Righty with Spike Tush Tag
Righty with Waddle Tush Tag
Ringo with Blizzard sewn in Tush Tag
Ringo with Bones Swing Tag
Ringo with Congo Tush Tag
Ringo with Hoot Swing Tag
Ringo with Hoot Tush Tag
Ringo with Hoppity Tush Tag
Ringo with Lucky Tush Tag
Ringo with Mel Tush Tag
Ringo with Mel Swing Tag
Ringo with Moo (pillow pal) Swing Tag
Ringo with Nanook Tush Tag
Ringo with Pouch Swing Tag
Ringo with Roary Tush Tag
Ringo with Spike Tush Tag
Ringo with Spooky Tush Tag
Ringo with Stretch Tush Tag
Ringo with Stretch Swing Tag
Ringo with Stripes Tush Tag
Roary with Baldy Tush Tag
Roary with Batty Tush Tag
Roary with Batty Swing Tag
Roary with Floppity Tush Tag
Roary with Floppity Swing Tag
Roary with Hippity Tush Tag
Roary with Nanook Tush Tag
Roary with Nuts Tush Tag
Roary with Pouch Tush Tag
Roary with Pounce Tush Tag
Roary with Princess Tush Tag
Roary with Ringo Tush Tag
Roary with Scoop Tush Tag
Roary with Snip Swing Tag
Roary with Snort Tush Tag
Roary with Stripes Swing Tag
Roary with Velvet Tush Tag
Roary with Weenie Tush Tag
Roary with Woof (plush) Swing Tag
Rocket with Chocolate Tush Tag
Rocket with Scoop Tush Tag
Rover with Chocolate Tush Tag
Rover with Chops Tush Tag
Rover with Daisy Swing Tag
Rover with Daisy swing and Tush Tags
Rover with Doby Swing Tag
Rover with Doby Tush Tag
Rover with Mystic Tush Tag
Rover with Scottie Swing Tag
Rover with Scottie Tush Tag
Rover with Smoochy Tush Tag
Rover with Sparky Swing Tag
Rover with Waddle Swing Tag
Scat with Mac Swing Tag
Schweetheart with Cheeks Tush Tag
Scoop with Batty Swing Tag
Scoop with Batty Tush Tag
Scoop with Bernie Swing Tag
Scoop with Bernie Tush Tag
Scoop with Blizzard Tush Tag
Scoop with Bucky Swing Tag
Scoop with Bucky Tush Tag
Scoop with Congo Tush Tag
Scoop with Jolly Tush Tag
Scoop with Mel Tush Tag
Scoop with Pouch Tush Tag
Scoop with Pinky Swing Tag
Scoop with Prance Swing Tag
Scoop with Pugsly Swing Tag
Scoop with Pugsly Tush Tag
Scoop with Quackers Swing Tag
Scoop with Roary Swing Tag
Scoop with Roary Tush Tag
Scoop with Rover Tush Tag
Scoop with Seaweed Tush Tag
Scoop with Spooky Tush Tag
Scoop with Stinky Swing Tag
Scoop with Tank Tush Tag
Scoop with Tuffy Swing Tag
Scoop with Wrinkles Swing Tag
Scoop with Ziggy tag
Scorch with Derby Tush Tag
Scorch with Erin Swing Tag
Scorch with Kicks Swing Tag
Scottie with Bubbles Swing Tag
Scottie with Congo Swing Tag
Scottie with Congo Tush Tag
Scottie with Doodle Tush Tag
Scottie with Dotty Swing Tag
Scottie with Dotty Tush Tag
Scottie with Floppity Tush Tag
Scottie with Freckles Swing Tag
Scottie with Freckles Tush Tag
Scottie with Hippity Tush Tag
Scottie with Rover Tush Tag
Scottie with Sly Tush Tag
Scottie with Snip swing and Tush Tags
Scottie with Snort Tush Tag
Scottie with Spike Swing Tag
Scottie with Stretch Swing Tag
Scottie with Velvet Tush Tag
Scottie with Wrinkles Swing Tag
Seamore with Ally Swing Tag
Seamore with Ally Tush Tag
Seamore with Claude Swing Tag
Seamore with Digger Tush Tag
Seamore with Gracie Tush Tag
Seamore with Inch Tush Tag
Seamore with Inky Swing Tag
Seamore with Inky Tush Tag
Seamore with Kiwi Tush Tag
Seamore with Legs tag
Seamore with Lizzy Swing Tag
Seamore with Pinchers Swing Tag
Seamore with Scoop Swing Tag
Seamore with Speedy Swing Tag
Seamore with Speedy Tush Tag
Seamore with Spooky Tush Tag
Seaweed with Bones Tush Tag
Seaweed with Churchill (plush) Swing Tag
Seaweed with Doby Tush Tag
Seaweed with Freckles Swing Tag
Seaweed with Freckles Tush Tag
Seaweed with Hoppity Swing Tag
Seaweed with Jolly Swing Tag
Seaweed with Kiwi Tush Tag
Seaweed with Manny Swing Tag
Seaweed with Manny Tush Tag
Seaweed with Mel Swing Tag
Seaweed with Mel Tush Tag
Seaweed with Nanook Swing Tag
Seaweed with Nuts Swing Tag
Seaweed with Peanut Tush Tag
Seaweed with Peanut Swing Tag
Seaweed with Princess Tush Tag
Seaweed with Rainbow Swing Tag
Seaweed with Rainbow Tush Tag
Seaweed with Ringo Tush Tag
Seaweed with Seamore Swing Tag
Seaweed with Sly Tush Tag
Seaweed with Spunky Tush Tag
Seaweed with Stripes Swing Tag
Seaweed with Tank Swing Tag
Seaweed with Tank Tush Tag
Seaweed with Twigs Tush Tag
Seaweed with Wrinkles Swing Tag
Seaweed with Ziggy Swing Tag
Seaweed with Ziggy Tush Tag
Silver with Fuzz Tush Tag
Slippery with Mooch Tush Tag
Slippery with Sammy Tush Tag
Sly with Ally Swing Tag
Sly with Congo Tush Tag
Sly with Congo Swing Tag
Sly with Dotty Swing Tag
Sly with Dotty Tush Tag
Sly with Early Tush Tag
Sly with Freckles Tush Tag
Sly with Jolly Tush Tag
Sly with Legs Tush Tag
Sly with Pinky Swing Tag
Sly with Pugsly Tush Tag
Sly with Stinky Tush Tag
Sly with Stinky Swing Tag
Sly with Stinky Tush Tag
Sly with Tabasco Tush Tag
Sly with Tracker Swing Tag
Smoochy with Bruno Swing Tag
Smoochy with Bruno Tush Tag
Smoochy with Chocolate Tush Tag
Smoochy with Cubbie Tush Tag
Smoochy with Daisy Tush Tag
Smoochy with Fetch Tush Tag
Smoochy with Gobbles Tush Tag
Smoochy with Goldie Tush Tag
Smoochy with Goldie Swing Tag
Smoochy with Happy Tush Tag
Smoochy with Snip Tush Tag
Smoochy with Stretch Swing Tag
Snip with Doodle Tush Tag
Snip with Gobbles Tush Tag
Snip with Grunt Tush Tag
Snip with Nip Tush Tag
Snip with Nuts Tush Tag
Snip with Prance Tush Tag
Snip with Snort tag
Snip with Stripes Tush Tag
Snip with Strut Swing Tag
Snip with Strut Tush Tag
Snip with Waves Tush Tag
Snip with Wrinkles tag
Snip with Zip Tush Tag
Snort with Bessie Swing Tag
Snort with Doodle Tush Tag
Snort with Flip Swing Tag
Snort with Floppity Tush Tag
Snort with Gobbles Tush Tag
Snort with Goldie Tush Tag
Snort with Legs swing and Tush Tag
Snort with Nuts Tush Tag
Snort with a Nuts Swing Tag
Snort with Princess Swing Tag
Snort with Puffer Swing Tag
Snort with Scoop Swing Tag
Snort with Scottie Swing Tag
Snort with Sparky Tush Tag
Snort with Stinky Tush Tag
Snort (Canadian) with Strut Tush Tag
Snort with Tabasco Swing Tag
Snort with Tuffy Tush Tag
Snort with Twigs Swing Tag
Snort with Waves Tush Tag
Snort with Weenie Swing Tag
Snort with Weenie Tush Tag
Snort with Zip Swing Tag
Snowball with Ally Swing Tag
Snowball with Bessie Tush Tag
Snowball with Chip Tush Tag
Snowball with Claude Swing Tag
Snowball with Cubbie Swing Tag
Snowball with Cubbie Tush Tag
Snowball with Stinky Tush Tag
Snowball with Sly Tush Tag
Snowball with Tuffy Swing Tag
Snowball with Tuffy Tush Tag
Snowball with Twigs Tush Tag
Snowball with Twigs Swing Tag
Snowball with Weenie Tush Tag
Snowball with Zip Tush Tag
Sparky with Bones Swing Tag
Sparky with Bubbles Tush Tag
Sparky with Dotty Tush Tag
Sparky with both Dotty swing and Tush Tag
Sparky with Dotty Tush Tag and Flip Swing Tag
Sparky with Ears Tush Tag
Sparky with Ears Swing Tag
Sparky with Flip Tush Tag
Sparky with Hippity Tush Tag
Sparky with Rover Tush Tag & Magic Swing Tag
Sparky with Tabasco Swing Tag
Sparky with Wrinkles Swing Tag
Speedy with Claude Tush Tag
Speedy with Digger Tush Tag
Speedy with Inch Tush Tag
Speedy with Legs Tush Tag
Speedy with Legs Swing Tag
Speedy with Pinchers Tush Tag
Speedy with Seamore Swing Tag
Speedy with Snort Tush Tag
Speedy with Strut Swing Tag
Speedy with Strut Tush Tag
Speedy with Valentino Tush Tag
Speedy with Weenie Tush Tag
Spike without Tush Tag
Spike with Blackie Tush Tag
Spike with Congo Tush Tag
Spike with Ears Tush Tag
Spike with Ears Swing Tag
Spike with Iggy Swing Tag
Spike with Maple Tush Tag
Spike with Mel Tush Tag
Spike with Mel Swing Tag
Spike with Nuts Tush Tag
Spike with Peanut Swing Tag
Spike with Pouch Tush Tag
Spike with Pugsly Swing Tag
Spike with Radar Tush Tag
Spike with Ringo Tush Tag
Spike with Seaweed Tush Tag
Spike with Snip Tush Tag
Spike with Spooky Swing Tag
Spike with Stretch Tush Tag
Spike with Tabasco Tush Tag
Spike with Velvet Swing Tag
Spike with Wrinkles Swing Tag
Spinner with Batty Swing Tag
Spinner with Batty Tush Tag
Spinner with Bernie Tush Tag
Spinner with Bones Swing Tag
Spinner with Bones Tush Tag
Spinner with Creepy Tush Tag
Spinner with Ears Swing Tag
Spinner with Ears Tush Tag
Spinner with Erin Swing Tag
Spinner with Freckles Swing Tag
Spinner with Hissy Tush Tag
Spinner with Hoot Tush Tag
Spinner with Legs Tush Tag
Spinner with Pinky Swing Tag
Spinner with Princess Swing Tag
Spinner with Purr Swing Tag
Spinner with Rainbow Tush Tag
Spinner with Snort Tush Tag
Spinner with Spike Tush Tag
Spinner with Stretch Swing Tag
Spinner with Stripes Swing Tag
Spinner with Stripes Tush Tag
Spinner with Tank Tush Tag
Spinner with Woof (plush) Swing Tag
Splash with Chocolate Tush Tag
Splash with Doby Tush Tag
Splash with Happy Tush Tag
Splash with Inky Swing Tag
Splash with Lizzy Tush Tag
Spooky with Batty Tush Tag
Spooky with Bones Swing Tag
Spooky with Ears Swing Tag
Spooky with Freckles Tush Tag
Spooky with Freckles Swing Tag
Spooky with Mel Tush Tag
Spooky with Mel Swing Tag
Spooky with Mystic Swing Tag
Spooky with Peanut Swing Tag
Spooky with Quackers Tush Tag
Spooky with Quackers Swing Tag
Spooky with Radar Tush Tag
Spooky with Ringo Tush Tag
Spooky with Roary Tush Tag
Spooky with Scoop Tush Tag
Spooky with Seaweed Tush Tag
Spooky with Spike Swing Tag
Spooky with Spinner Tush Tag
Spooky with Stripes Swing Tag
Spooky with Stripes Tush Tag
Spooky with 1997 Teddy Tush Tag
Spooky with Twigs Swing Tag
Spooky with Velvet Tush Tag
Spooky with Wrinkles Tush Tag
Spot with Bernie Tush Tag
Spot with Chocolate Tush Tag
Spot with Daisy Tush Tag
Spot with Echo Tush Tag
Spot with Goldie Tush Tag
Spot with Lizzy Tush Tag
Spot with Muffin (from plush line) Swing Tag
Spot with Mystic Tush Tag
Spot with Nip Swing Tag
Spunky with Blizzard Tush Tag
Spunky with Bones Tush Tag
Spunky with Hippity Swing Tag
Spunky with Hissy Swing Tag
Spunky with Iggy Swing Tag
Spunky with Nuts Tush Tag
Spunky with Pumkin' Tush Tag
Spunky with Quackers Tush Tag
Spunky with Scoop Swing Tag
Spunky with Spike Tush Tag
Spunky with Stretch Swing Tag
Spunky with Stretch Tush Tag
Squealer with Bessie Tush Tag
Squealer with Blackie Tush Tag
Squealer with Blackie Swing Tag
Squealer with Bucky Swing Tag
Squealer with Chocolate Tush Tag
Squealer with Garcia Swing Tag
Squealer with Hope (from plush line) Swing Tag
Squealer with Muffin (from plush line) Swing Tag
Squealer with Nip Swing Tag
Squealer with Peace Swing Tag
Squealer with Roary Tush Tag
Squealer with Valentino Swing Tag
Squealer with Weenie Tush Tag
Stilts with Canyon Swing Tag
Stilts with Mac Swing Tag
Sting with Magic Swing Tag
Sting with Pouch Tush Tag
Sting with Ringo Tush Tag
Sting with Tank Tush Tag
Sting with Valentino Tush Tag
Sting with Weenie Swing Tag
Stinger with Bernie Tush Tag
Stinger with Princess Tush Tag
Stinger with Spinner Swing Tag
Stinger with Stretch Tush Tag
Stinky with Bongo tag
Stinky with Chip Tush Tag
Stinky with Congo Swing Tag
Stinky with Congo Tush Tag
Stinky with Doodle Tush Tag
Stinky with Doodle swing and Tush Tag
Stinky with Dotty Swing Tag
Stinky with Floppity Tush Tag
Stinky with Gracie Swing Tag
Stinky with Jabber swing and Tush Tags
Stinky with Legs Swing Tag
Stinky with Radar tag
Stinky with Sly Swing Tag
Stinky with Sly Tush Tag
Stinky with Snowball Tush Tag
Stinky with Speedy Tush Tag
Stinky with 1997 Teddy Tush Tag
Stinky with Waves Tush Tag
Stinky with Weenie Tush Tag
Stinky with Zip Swing Tag
Stretch with Derby Tush Tag
Stretch with Early Tush Tag
Stretch with Ears Swing Tag
Stretch with Ears Tush Tag
Stretch with Freckles Tush Tag
Stretch wtih Iggy Swing Tag
Stretch with Iggy Tush Tag
Stretch with Kuku Swing Tag
Stretch with Pinky Tush Tag
Stretch with Prance Tush Tag
Stretch with Spike Swing Tag
Stretch with Spinner Swing Tag
Stretch with Spunky Tush Tag
Stretch with Stripes Tush Tag
Stretch with Rover Swing Tag
Stretch with Waddles Tush Tag
Stretch with Waves Swing Tag
Stretch with Wrinkles Swing Tag
Stretch with Wrinkles Tush Tag
Stripes with Blizzard Swing Tag
Stripes with Blizzard Tush Tag
Stripes (old) with Caw Swing Tag
Stripes with Coral Tush Tag
Stripes with Freckles Swing Tag
Stripes with Freckles swing and Tush Tag
Stripes with Freckles Tush Tag
Stripes with Gracie Tush Tag
Stripes with Hissy Swing Tag
Stripes with Hissy Tush Tag
Stripes with Hoot Swing Tag
Stripes with Hoot Tush Tag
Stripes with Iggy Tush Tag
Stripes with Lucky Swing Tag
Stripes with Mel Tush Tag
Stripes with Radar Tush Tag
Stripes with Roary Tush Tag
Stripes with Scottie Tush Tag
Stripes with Sly Tush Tag
Stripes with Snip Swing Tag
Stripes with Snort Swing Tag
Stripes with Sparky Tush Tag
Stripes with Spinner Swing Tag
Stripes with Spinner Tush Tag
Stripes with Spunky Swing Tag
Stripes with Squealer Swing Tag
Stripes with Stinky Tush Tag
Stripes with Tank Swing Tag
Stripes with Tuffy Tush Tag
Stripes with a Wrinkles Swing Tag
Stripes with Ziggy Swing Tag
Strut with Baldy Tush Tag
Strut with Chip Tush Tag
Strut with Congo Tush Tag
Strut with Curly Tush Tag
Strut with Doodle Tush Tag
Strut with Doodle Swing Tag
Strut with Dotty Tush Tag
Strut with Ears Swing Tag
Strut with Gobbles Tush Tag
Strut with Snip Swing Tag
Strut with Speedy Tush Tag
Strut with Stinky Tush Tag
Strut with Tuffy Swing Tag
Strut with Snort Tush Tag
Tabasco with Bones Swing Tag
Tabasco with Lefty Tush Tag
Tabasco with Mystic Tush Tag
Tabasco with Nip Swing Tag
Tabasco with Patti Swing Tag
Tabasco with Scottie Swing Tag
Tabasco with Snort swing and Tush Tags
Tabasco with Spike Tush Tag
Tabasco with Spike Swing Tag
Tabasco with Squealer Tush Tag
Tabasco with Tusk Swing Tag
Tank with two identical Tush Tags
Tank with Blizzard Tush Tag
Tank with Derby Tush Tag
Tank with Ears Tush Tag
Tank with Freckles Swing Tag
Tank with Hoot Swing Tag
Tank with Hoot swing and Tush Tag
Tank with Hoot Tush Tag
Tank with Kiwi Tush Tag
Tank with Nanook Tush Tag
Tank with Peanut Tush Tag
Tank with Quackers Tush Tag
Tank with Ringo Swing Tag
Tank with Scoop Tush Tag
Tank with Seaweed Tush Tag
Tank with Sting Tush Tag
Tank with Stripes Tush Tag
Tank with Waddles Tush Tag
Teddy 1997 with Cubby Tush Tag
Teddy 1997 with Dobie Swing Tag
Teddy 1997 with Dobie Tush Tag
Teddy 1997 with Fleece Tush Tag
Teddy 1997 with Inch Swing Tag
Teddy 1997 with Inch Tush Tag
Teddy 1997 with Lizzy Tush Tag
Teddy 1997 with Mystic Tush Tag
Teddy 1997 with Quackers Tush Tag
Teddy 1997 with Rover Tush Tag
Teddy 1998 with Chip Tush Tag
Teddy 1999 with Wallace Tush Tag
Teddy with Blackie Tush Tag
Teddy with Curlie Tush Tag
Teddy with Garcia Tush Tag
Teddy with Peace Tush Tag
Teddy with Peace Swing Tag
Teddy with Rover Tush Tag
Teddy with Squealer Swing Tag
Teddy with Valentino Swing Tag
Teddy with Zip Tush Tag
Tiny with Millenium Swing Tag
Tracker with Dotty Tush Tag
Tracker with Early Swing Tag
Tracker with Freckles Tush Tag
Tracker with Sly Swing Tag
Tracker with Sly Tush Tag
Tuck with Bones Tush Tag
Tuck with Pinky Tush Tag
Tuck with Spooky Tush Tag
Tuffy with Angel (plush) Swing Tag
Tuffy with Baldy Tush Tag
Tuffy with Bongo Swing Tag
Tuffy with Blackie Tush Tag
Tuffy with Doodle Tush Tag
Tuffy with Dotty Swing Tag
Tuffy with Dotty Tush Tag
Tuffy with Garcia Tush Tag
Tuffy with Gobbles Tush Tag
Tuffy with Hippity Swing Tag
Tuffy with Hippity Tush Tag
Tuffy with Mystic Tush Tag
Tuffy with Nip Swing Tag
Tuffy with Nuts Swing Tag
Tuffy with Peace Tush Tag
Tuffy with Snowball Tush Tag
Tuffy with Squealer Swing Tag
Tuffy with Strut's Swing Tag
Tuffy with Teddy Tush Tag
Tuffy with Twigs Tush Tag
Tuffy with Valentino Swing Tag
Tusk with Coral Swing Tag
Tusk with Derby Swing Tag
Tusk with Pinky Tush Tag
Tusk with Righty Swing Tag
Tusk with Spooky Tush Tag
Twigs with Ally Tush Tag
Twigs with Bessie Swing Tag
Twigs with Bongo Swing Tag
Twigs with Bongo Tush Tag
Twigs with Cubbie Tush Tag
Twigs with Gobbles Tush Tag
Twigs with Gracie Tush Tag
Twigs with Lucky Swing Tag
Twigs with Puffer Tush Tag
Twigs with Sly Swing Tag
Twigs with Snort Swing Tag
Twigs with Snowball Swing Tag
Twigs with Snowball Tush Tag
Twigs with Spooky Swing Tag
Twigs with Waddle Swing Tag
Twigs with Weenie Swing Tag
Twigs with Weenie Tush Tag
Valentina with Millennium Tush Tag
Valentina with Tiny Tush Tag
Valentino with Blackie Tush Tag
Valentino with Chips (plush) Swing Tag
Valentino with Curly Tush Tag
Valentino with Maple Swing Tag
Valentino with Maple Tush Tag
Valentino with Canadian Special Olympic Tag
Valentino with Peace Tush Tag
Valentino with Speedy Tush Tag
Valentino with Squealer Swing Tag
Valentino with Squealer Tush Tag
Velvet with Bones Swing Tag
Velvet with Chocolate Tush Tag
Velvet with Ears Tush Tag
Velvet with Freckles Swing Tag
Velvet with Freckles Tush Tag
Velvet with Grunt tag
Velvet with Hoppity tag
Velvet with Magic Swing Tag
Velvet with Mel Tush Tag
Velvet with Peanut Swing Tag
Velvet with Peanut Tush Tag
Velvet with Pouch Tush Tag
Velvet with Pugsly Tush Tag
Velvet with Quackers Tush Tag
Velvet with Seaweed Tush Tag
Velvet with Spike Swing Tag and Waddle Tush Tag
Velvet with Spike Swing Tag
Velvet with Spinner Swing Tag
Velvet with Stripes Tush Tag
Velvet with Stripes swing and Tush Tag
Velvet with Stinky Swing Tag
Velvet with Waddle Swing Tag
Velvet with Waddle Tush Tag
Velvet with Wrinkles tag
Waddle with Batty Swing Tag
Waddle with Bones Tush Tag
Waddle with Bongo Swing Tag
Waddle with Bongo Tush Tag
Waddle with Bucky Tush Tag
Waddle with Claude Swing Tag
Waddle with Ears Tush Tag
Waddle with Inch Tush Tag
Waddle with Jolly Swing Tag
Waddle with Libearty Swing Tag
Waddle with Lucky Tush Tag
Waddle with Peanut Tush Tag
Waddle with Peanut Swing Tag
Waddle with Pugsly Swing Tag
Waddle with Quackers Tush Tag
Waddle with Seaweed Tush Tag
Waddle with Snip Tush Tag
Waddle with Tank Tush Tag
Waddle with Velvet Swing Tag
Waddle with Velvet Tush Tag
Waddle with Weenie Swing Tag
Waddle with Wrinkles Swing Tag
Waves with Chocolate Tush Tag
Waves with Chocolate Swing Tag
Waves with Echo swing and Tush Tags (appears on first Waves produced for US market)
Waves with Echo Swing Tag and Lizzy Tush Tag
Waves with Goldie Tush Tag
Waves with Jolly Tush Tag
Waves with Nuts Tush Tag
Waves with Pincher Tush Tag
Waves with Prance Swing Tag
Waves with Rover Tush Tag
Waves with Sly Swing Tag
Waves with Snort Tush Tag
Weenie with Bernie Tush Tag
Weenie with Bongo Swing Tag
Weenie with Chip Swing Tag
Weenie with Curly Swing Tag
Weenie with Congo Swing Tag
Weenie with Floppity Swing Tag
Weenie with Floppity Tush Tag
Weenie with Gobbles Swing Tag
Weenie with Gobbles Tush Tag
Weenie with Hippity Tush Tag
Weenie with Nip Tush Tag
Weenie with Nuts Swing Tag
Weenie with Patti Swing Tag
Weenie with Roary Tush Tag
Weenie with Snort Tush Tag
Weenie with Speedy Tush Tag
Weenie with Squealer Swing Tag
Weenie with Stinky Tush Tag
Weenie with Tuffy Swing Tag
Weenie with Twigs Tush Tag
Weenie with Twigs Swing Tag
Weenie with Zip Tush Tag
Whisper with Bernie Tush Tag
Whisper with Nanook Swing Tag
Whisper with Nanook Tush Tag
Whisper with Prance Swing Tag
Whisper with Spinner Swing Tag
Wrinkles with Blizzard Swing Tag
Wrinkles with Blizzard Tush Tag
Wrinkles with Bones Swing Tag
Wrinkles with Hissy Tush Tag
Wrinkles with Hoppity Tush Tag
Wrinkles with Hoppity Swing Tag
Wrinkles with Mel Swing Tag
Wrinkles with Nuts Tush Tag
Wrinkles with Pouch Tush Tag
Wrinkles with Pouch Swing Tag
Wrinkles with Ringo Tush Tag
Wrinkles with Tank Tush Tag
Wrinkles with Spooky Swing Tag
Wrinkles with Squealer Swing Tag
Wrinkles with Stretch Swing Tag
Wrinkles with Stretch Tush Tag
Ziggy with Blizzard Swing Tag
Ziggy with Bones Tush Tag
Ziggy with Bongo Swing Tag
Ziggy with Bucky Tush Tag
Ziggy with Coral Tush Tag
Ziggy with Derby Tush Tag
Ziggy with Hoot Swing Tag
Ziggy with Hoppity tag
Ziggy with Iggy Tush Tag
Ziggy with Magic Tush Tag
Ziggy with Manny Swing Tag
Ziggy with Peanut Swing Tag
Ziggy with Pinky Tush Tag
Ziggy with Seaweed Swing Tag
Ziggy with Scoop Tush Tag
Ziggy with Stinky Swing Tag
Ziggy with Stripes Swing Tag
Zip with Bones Tush Tag
Zip with Bongo tag
Zip with Bubbles tag
Zip with Bucky Tush Tag
Zip with Chip Swing Tag
Zip with Dotty Tush Tag
Zip with Hoot tag
Zip with Mystic Tush Tag
Zip with Nip Tush Tag
Zip with Nip Swing Tag
Zip with Nuts Swing Tag
Zip with Nuts Tush Tag
Zip with Patti Swing Tag
Zip with Patti Tush Tag
Zip with Patti swing and Tush Tags
Zip with Pinky Tush Tag
Zip with Pounce Swing Tag
Zip with Prance Swing Tag
Zip with Teddy Swing Tag
Zip with Tuffy Tush Tag
Zip with Ziggy Swing Tag