Top Rated Beanie Babies Books
Here are the best selling Beanie Babies books as rated by Amazon. Most of the books will have useful information even if it is outdated. There are some collectors out there that just want a quick and easy list with pictures. Most of these books will provide that and can be had for less than $5 plus shipping in most cases.
If the books feature pricing, it is most likely out of date and inflated. The best resource for pricing Beanie Babies is eBay and also Price Guide App – Beanie Babies.  It can be fun to look back at the craze that was Beanie Babies in the 1990's and some of the books will reflect the wild prices some sold for.  While some of the pricing content in the books may be out-dated, many of the books provide pictures and information on the Tags which can help you determine if your Beanie is worth money.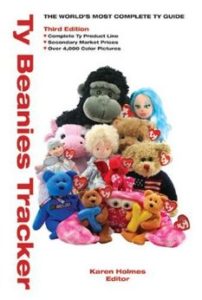 Ty Beanies Tracker Third Edition
#1 Beanie Babies Book

Author: Karen Holmes
Customer Rating: ★★★★★
Read Customer Reviews

Published: 2007
Amazon Rank: #2 Toy Animals Books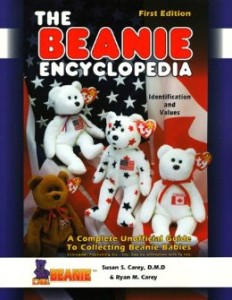 The Beanie Encyclopedia: A Complete Unofficial Guide
#2 Beanie Babies Book

Author: Susan S. Carey
Customer Rating: ★★★★☆
Read Customer Reviews

Published: 1998
Amazon Rank: #3 Toy Animals Books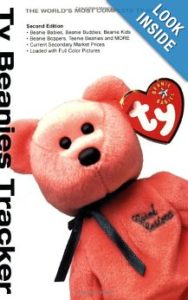 Ty Beanies Tracker First Edition
#3 Beanie Babies Book

Author: Karen Holmes
Customer Rating: ★★★★★
Read Customer Reviews

Published: 2005
Amazon Rank: #5 Toy Animals Books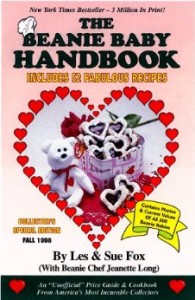 The Beanie Baby Handbook
#4 Beanie Babies Book

Author: Jeanette Long
Customer Rating: ★★★☆☆
Read Customer Reviews

Published: 1998
Amazon Rank: #7 Toy Animals Books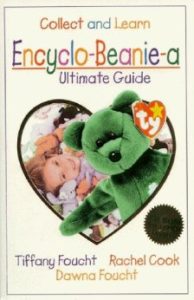 Encyclo-Beanie-A: Ultimate Guide
#5 Beanie Babies Book

Author: Tiffany Foucht
Customer Rating: ★★★★☆
Read Customer Reviews

Published: 1998
Amazon Rank: #8 Toy Animals Books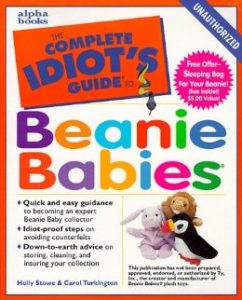 The Complete Idiots Guide to Beanie Babies
#6 Beanie Babies Book

Author: Carol Stowe Holly; Turkington
Customer Rating: ★★★★☆
Read Customer Reviews

Published: 1998
Amazon Rank: #9 Toy Animals Books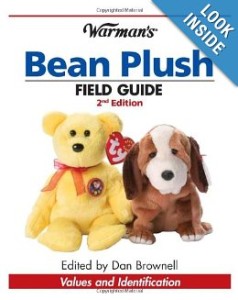 Warman's Bean Plush Field Guide 2008
#7 Beanie Babies Book

Author: Dan Brownell
Customer Rating: ★★★★☆
Read Customer Reviews

Published: 2008
Amazon Rank: #16 Toy Animals Books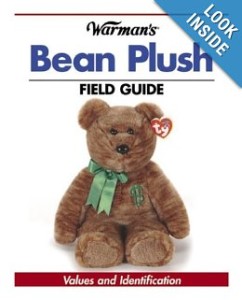 Warman's Bean Plush Field Guide 2004
#8 Beanie Babies Book

Author: Dan Brownell
Customer Rating: ★★★★☆
Read Customer Reviews

Published: 2004
Amazon Rank: #20 Toy Animals Books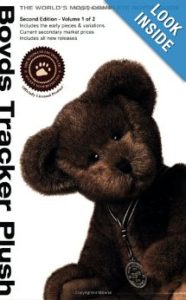 Boyds Tracker Plush: Value Guide
#9 Beanie Babies Book

Author: Beth Phillips
Customer Rating: ★★★★★
Read Customer Reviews

Published: 2004
Amazon Rank: #28 Toy Animals Books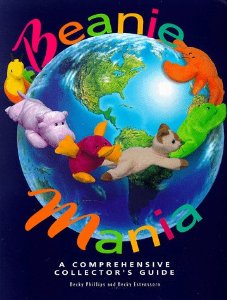 Beanie Mania: A Comprehensive Collector's Guide
#10 Beanie Babies Book

Author: Becky Phillips
Customer Rating: ★★★★☆
Read Customer Reviews

Published: 1997
Amazon Rank: #30 Toy Animals Books