Ty Hong Kong Toy Show Beanie Babies
Some of the most rare Beanie Babies are the versions given away at the Hong Kong Toy Shows. Ty began making them in 2010, with the very first one being a dark red bear with yellow ribbon.   All three beanie babies from the Hong Kong Toy Show 2010, 2011, and 2012 can sell for over $1,000.00 depending on condition and some for much more.  The 2010 bear is the most rare, as it didn't even come with a tush tag and very few people have even seen one and was meant to be a display bear only!  During the January 2010 Hong Kong show the bear was on display at the Peninsula Hotel.  Many hardcore beanie baby collectors didn't even know the 2010 version existed until the 2011 Hong Kong bear was displayed at the '11 Toy Show.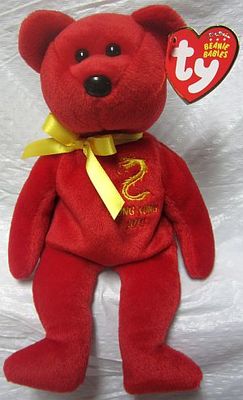 In 2011, Ty produced a few more Hong Kong Toy Show exclusive beanie babies but not very many more. These are considered more rare then the 2012 purple version. The 2011 Hong Kong Toy Show was from January 11-14 and only a few red show exclusive beanies were produced and one was listed on eBay for $4,499.00 in October 2012.   Typically they will sell for less, but will command over $2,000 fairly easily. The 2011 bear comes with an embroidered dragon on the bear's chest and has Hong Kong 2011 beneath the dragon.
The 2012 Hong Kong Beanie Baby Bear is rare, but appear to be more plentiful then 2011 and considerably more then the 2010 version.  Sellers on eBay have floated that about 18 were made.  Instead of red, the 2012 bear is a shade of purple/lilac and has a pink ribbon.   In September 2012 a Hong Kong bear in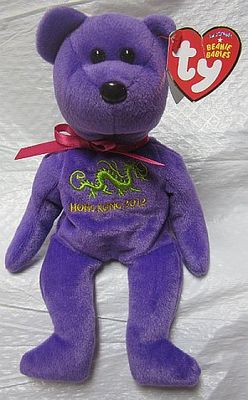 good condition sold for $960.00 on eBay.  A reported high of $3,999.00 had been paid for a 2012 Hong Kong bear graded in museum quality (MQ) condition.  Beanie Baby Price Guide App has a confirmed sale of $1,725.00 for one in a protective case.
The beanie babies condition plays a huge factor when determining value.  Third party graders can determine the condition of your rare beanie baby. They will grade the condition of the bear as well as the condition of the Ty hanger tag. If there are any creases or imperfections in the tag or the bear itself it will knock down the condition score. (MQ) museum quality is considered the top grade/score.