Top Beanie Babies Sales – 2014
Here are the highest priced Beanie Babies sold on eBay during 2014. Despite it being over a decade since Beanie Babies were mainstream popular, there is still a market for some of the rare and desirable ones.
Many people think they have ones that are valuable, but in reality, Beanie Babies worth money are hard to find. The condition plays an important factor in determining value. Many of the highest priced Beanie Babies are authenticated by third parties before being sold.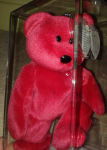 #1 Bear
Authenticated by Peggy Gallagher
Serial Numbered #108/253
Autographed by Ty Warner
Sold For: $1,500.00
Date Sold: September 26, 2014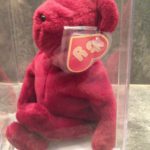 Teddy – Old Face Cranberry
Authenticated by: True Blue Beans
Heart Tag: 1st Generation
Tush Tag: 1st Generation
Sold For: $1,300.00
Date Sold: July 1, 2014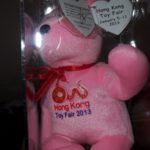 2013 Hong Kong Toy Fair
Authenticated By: True Blue Beans
Sold For: $1,095.00
Date Sold: March 1, 2014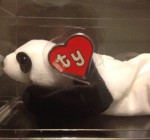 Peking the Panda
Authenticated By: True Blue Beans
Hang & Tush Tag: 1st Generation
Sold For: $795.00
Date Sold: January 5, 2014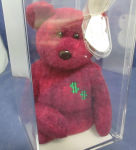 Billionaire Bear #2
Authenticated by True Blue Beans
Serial Numbered: 459/475
Autographed by Ty Warner
Sold For: $737.86
Date Sold: October 16, 2014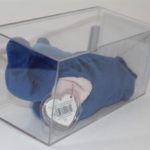 Royal Blue Peanut
Authenticated by: True Blue Beans
Heart Tag: 3rd Generation
Tush Tag: 1st Generation
Sold For: $725.00
Date Sold: July 12, 2014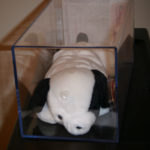 Spot – Without Spot
Authenticated by: Pbbags
Hang & Tush Tag: 1st Generation KOREAN
Sold For: $659.90
Date Sold: February 21, 2014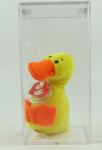 Quackers – Without Wings
Authenticated By: True Blue Beans
Hang Tag: 2nd Generation
Tush Tag: 1st Generation
Sold For: $629.90
Date Sold: November 11, 2014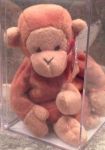 Nana – With Bongo Sticker
Authenticated by: True Blue Beans
Hang Tag: 3rd Generation
Tush Tag: 1st Generation
Sold For: $600.00
Date Sold: October 18, 2014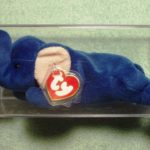 Peanut – Royal Blue
True Blue Beans Authenticated
Swing Tag: 3rd Generation
Tush Tag: 1st Generation
Sold For: $600.00
Date: March 13, 2014
Top Selling Beanie Babies Archive: