Valentino Beanie Babies Price Guide
One of the most commonly found Beanie Babies is Valentino.
Depending what tags it has, your Valentino could be worth a $1 to a few hundred. Millions of Valentino Beanie Babies were made, which means most of them are worthless.
This guide is to help you figure out which Valentino you have.
Counterfeit versions exist.
Only Valentino Bears with these Tush Tags are worth money:
Lots of misinformation exists online about Valentino and other values of Beanie Babies. The rare ones are very hard to find, but millions of Valentino's exist with more common tags.
All Valentino bears have brown noses.
---
Valentino The Bear
Original DOB: February 14, 1994
Retired: December 31, 1998
Style Number: 4058
Hang Tag Generations: 2, 3, 4, 5
Tush Tag Generations: 1, 2, 3, 4, 5, 6
---
Valentino Beanie Babies worth the most money will have:
2nd Generation Hang Tag
1st Generation Tush Tag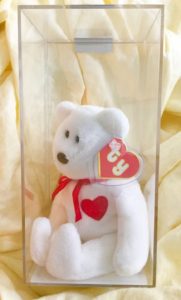 Valentino
Authenticated By: True Blue Beans
Hang Tag: 2nd Generation
Tush Tag: 1st Generation
Price: $399.95 - February 8, 2017
Price: $177.50 - November 26, 2014
Price: $102.50 - May 18, 2014
Price: $97 - October 2018
Not Authenticated
Price: $300 - August 2021
It is very rare to have that tag combination.
99.9% of the time YOU WILL NOT HAVE THIS VERSION
---
Astro-Valentino
Comes with autographed card of Scott Carpenter and Ed Gibson.
Serial Numbered #/250 – Issued on July 26, 1998
Sale Price: $300.00 – January 1, 2015
Click on pictures to view larger image
---
Toys For Tots
Limited edition of 5,500 Versions
Promotion for the Marine Corps Reserve in 1998
Comes with Certificate – Worth Less Without It
Sale Price: $29.99 – December 18, 2014
Check Current Price: eBay
–
---
Valentino
Hang Tag: 3rd Generation
Tush Tag: 2nd Generation
Price: $19.95 – June 28, 2016
Check Current Price: eBay
–
Click on pictures to view larger image
---
Valentino
Hang Tag: 4th Generation – Korea
Tush Tag: 3rd Generation – Korea
Handmade in Korea – Added Canadian Tush Tag
Price: $14.99 – February 19, 2015
Check Current Price: eBay
–
Click on pictures to view larger image
---
Valentino – Special Olympics
Comes with Certificate – Worth Less Without It
Price: $9.99 – December 20, 2015
Check Current Price: eBay
–
Click on pictures to view larger image
---
Hang Tag error of Original being misspelled as "Origiinal"
Surface is also misspelled as "suface" on the back of the Hang Tag
PE Pellets or P.V.C Pellets
Hang Tag Generation: 5th Generation
Tush Tag Generation: 6th Generation
Average Price: $2-$5
Click on pictures to view larger image
---
Hang Tag Errors: Original being misspelled as "Origiinal" – Surface Wash sticker on back
PE Pellets or P.V.C Pellets
Hang Tag Generation: 5th Generation
Tush Tag Generation: 6th Generation
Sold For: $4.00