1st Generation Beanie Babies
1st Generation Beanie Babies that have the 1st Generation Hang Tag can be worth money.
Those are some of the most rare Beanie Babies available on the secondary market and some can sell for hundreds of dollars even today.
The Beanie Babies with the 1st Generation Hang Tag were some of the very first Beanie Babies to be produced in early 1994. Many of the Beanie Babies on this page will continue to be made throughout the generations of Beanie Babies.
If you have Beanie Babies on this page, watch this video to see if yours might have value:
Determining the value of your Ty Beanie Beanies can be a frustrating process.
A 1st Generation Chocolate The Moose is rare and has a value of probably over $100+. Put it side-by-side next to a 5th Generation Chocolate The Moose, which might be worth $1-$5, and they look almost identical.
The ones with the 1st Generation Hang Tag are worth the most, whereas versions with different tags can be almost worthless.
The tags make a huge difference in the value of your Beanie Babies and be sure to look them over closely before you think you have a rare plush toy.
The good news is, finding out if you have a 1st Generation Beanie Babie is easier then figuring out most Generations.
1st Generation Hang Tags DO NOT open like a book. And 1st Generation Tush Tags are in black and white.
You must have both of these tags to be considered a 1st/1st Generation Ty Beanie Babies.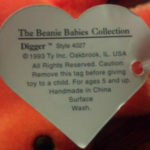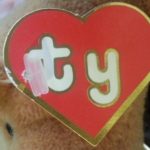 Below are some more facts about 1st Generation Tags.

1st Generation Hang Tag Faq:
1st Generation Hang Tags are flat and do not open up like a book.
1st Gen. Hang Tag Beanie Babies were made in either China or Korea.
Tags that are still attached to the Beanie Baby and in good condition are worth more.
Buyers of early Beanie Babies would often remove the tag. BB's without tags are worth less.
1st Generation U.K. Beanie Babies had a special tag. Those are ultra rare and hardly seen.
Many people get fooled thinking they have a valuable Beanie Baby, only to find out it doesn't have a 1st Generation Hang Tag and was apart of another Generation that was mass produced.
The 'Teenie Beanies' distributed by McDonalds also had flat tags.
McDonalds Teenie Beanies are not considered apart of the 1st Generation family.
The McDonalds Beanie Babies are clearly marked 'Teenie' and are generally worth less.
Example of 1st Generation Hang Tag Value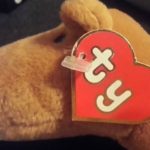 Humphrey The Camel
1st Generation Hang Tag
1st Generation Tush Tag
Sold For: $395.00
Sold Date: May 30, 2013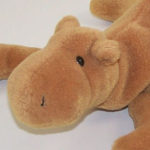 Humphrey The Camel
NO Hang Tag
1st Generation Tush Tag
Sold For: $99.89
Sold Date: March 22, 2013
1st Generation Tush Tag Faq
© 1993 Ty INC.  – OR-  © 1995 Ty INC. will appear on 1st Gen Tush Tags.
NOTE: Beanie Babies with a 1st Generation Hang Tag will only have: © 1993 Ty INC.
Not all 1st Gen Tags say "FOR AGES 3 AND UP" on them.
Not all 1st Gen Tags say "SURFACE WASHABLE" on them.
1st Gen Tush Tags will say "HANDMADE IN CHINA" or "HANDMADE IN KOREA".
Black lettering with White background.
More Information: 1st Generation Beanie Baby Tush Tags
List of 1st Generation Beanie Babies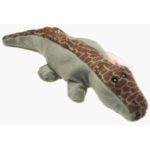 Ally The Alligator
Original DOB: March 14, 1994
Retired: October 1, 1997
Style Number: 4032
Hang Tag Generations: 1, 2, 3, 4
Tush Tag Generations: 1, 2, 3, 4, 5
Love My Beanies: Ally the Alligator Information
Check Price: on eBay
– on Amazon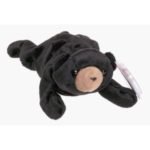 Blackie The Bear
Original DOB: July 15, 1994
Retired: September 15, 1998
Style Number: 4011
Hang Tag Generations: 1, 2, 3, 4, 5
Tush Tag Generations: 1, 2, 3, 4, 5, 6
Love My Beanies: Blackie The Bear
Check Price: on eBay
– on Amazon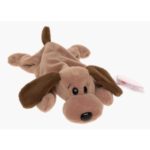 Bones The Dog
Original DOB: January 18, 1994
Retired: May 1, 1998
Style Number: 4001
Hang Tag Generations: 1, 2, 3, 4, 5
Tush Tag Generations: 1, 2, 3, 4, 5, 6
Love My Beanies: Bones the Dog
Check Price: on eBay
– on Amazon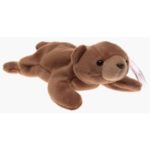 Cubbie The Bear
Original DOB: November 14, 1993 (Brownie)
Retired: December 31, 1997
Style Number: 4010
Hang Tag Generations: 1, 2, 3, 4, 5
Tush Tag Generations: 1, 2, 3, 4, 5, 6
Original 9 Beanie Baby
Check Price: on eBay
– on Amazon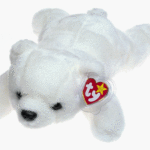 Chilly The Polar Bear
Original DOB: February 22, 1994
Retired: January 7, 1996
Style Number: 4012
Hang Tag Generations: 1, 2, 3
Tush Tag Generations: 1
Check Price: on eBay
– on Amazon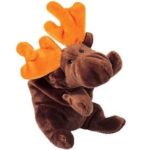 Chocolate The Moose
Original DOB: April 27, 1993
Retired: December 31, 1998
Style Number: 4015
Hang Tag Generations: 1, 2, 3, 4, 5
Tush Tag Generations: 1, 2, 3, 4, 5, 6
Original 9 Beanie Baby
Check Price: on eBay
– on Amazon
Daisy The Cow
Original DOB: May 10, 1994
Retired: September 15, 1998
Style Number: 4006
Hang Tag Generations: 1, 2, 3, 4, 5
Tush Tag Generations: 1, 2, 3, 4, 5, 6
Check Price: on eBay
– on Amazon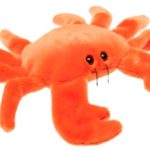 Digger The Crab (Orange)
Original DOB: None
Introduction Date: June 25, 1994
Retired: June 3, 1995
Style Number: 4027
Hang Tag Generations: 1, 2, 3
Tush Tag Generations: 1
Check Price: on eBay
– on Amazon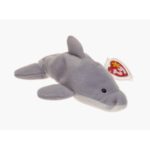 Flash The Dolphin
Original DOB: May 13, 1993
Retired: May 11, 1997
Style Number: 4021
Hang Tag Generations: 1, 2, 3, 4
Tush Tag Generations: 1, 2, 3
Original 9 Beanie Baby
Check Price: on eBay
– on Amazon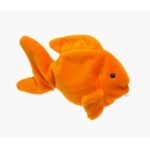 Goldie The Fish
Original DOB: November 14, 1994
Retired: December 31, 1997
Style Number: 4023
Hang Tag Generations: 1, 2, 3, 4, 5
Tush Tag Generations: 1, 2, 3, 4, 5
Check Price: on eBay
– on Amazon
Happy The Hipo
Original DOB: February 25, 1994
Retired: June 3, 1995
Style Number: 4061
Hang Tag Generations: 1, 2, 3
Tush Tag Generations: 1
Check Price: on eBay
– on Amazon
Humphrey The Camel
Original DOB: May 19, 1994
Retired: June 15, 1995
Style Number: 4060
Hang Tag Generations: 1, 2, 3
Tush Tag Generations: 1
Check Price: on eBay
– on Amazon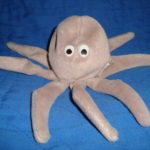 Inky Octopus (No Mouth Gray)
Original DOB: November 29, 1994
Retired: September 12, 1994
Style Number: 4028
Hang Tag Generations: 1, 2
Tush Tag Generations: 1
Check Price: on eBay
– on Amazon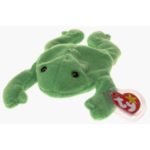 Legs The Frog
Original DOB: April 25, 1993
Retired: October 1, 1997
Style Number: 4020
Hang Tag Generations: 1, 2, 3, 4
Tush Tag Generations: 1, 2, 3, 4, 5
Original 9 Beanie Baby
Check Price: on eBay
– on Amazon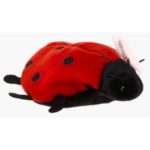 Lucky The Lady Bug (7 Felt Dots)
Original DOB: May 1, 1995
Retired: February 27, 1996
Style Number: 4040
Hang Tag Generations: 1, 2, 3
Tush Tag Generations: 1, 2
Check Price: on eBay
– on Amazon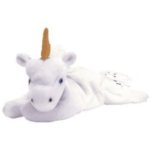 Mystic The Unicorn (Brown Horn/Fine Mane)
Original DOB: May 21, 1994
Retired: 1995
Style Number: 4007
Hang Tag Generations: 1, 2, 3
Tush Tag Generations: 1, 2
Check Price: on eBay
– on Amazon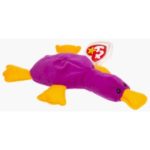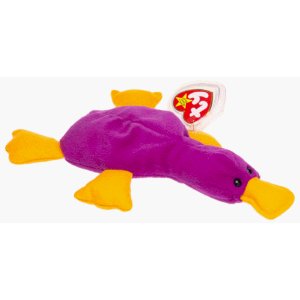 Patti The Platypus (Deep Fuchsia)
Original DOB: January 6, 1993
Retired: 1993
Style Number: 4025
Hang Tag Generations: 1
Tush Tag Generations: 1
Original 9 Beanie Baby
Check Price: on eBay
– on Amazon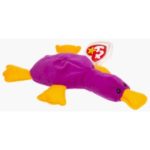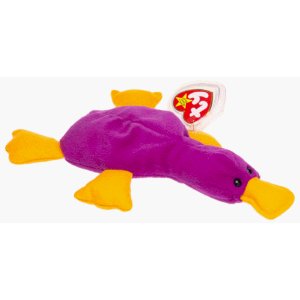 Patti The Platypus (Raspberry)
Original DOB: January 6, 1993
Retired: 1994
Style Number: 4025
Hang Tag Generations: 1, 2
Tush Tag Generations: 1
Check Price: on eBay
– on Amazon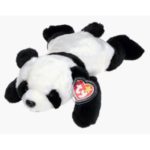 Peking the Panda Bear
Original DOB: None
Introduction Date: June 25, 1994
Retired: January 7, 1996
Style Number: 4013
Hang Tag Generations: 1, 2, 3
Tush Tag Generations: 1
Check Price: on eBay
– on Amazon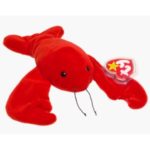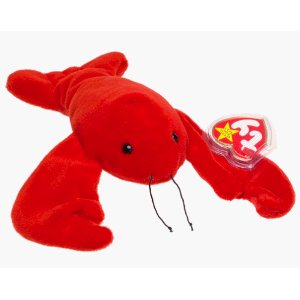 Pinchers The Lobster
Original DOB: June 19, 1993 (Punchers)
Retired: May 1, 1998
Style Number: 4026
Hang Tag Generations: 1, 2, 3, 4, 5
Tush Tag Generations: 1, 2, 3, 4, 5, 6
Original 9 Beanie Baby
Check Price: on eBay
– on Amazon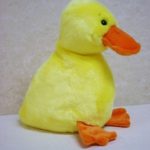 Quackers The Duck (Wingless)
Original DOB: None
Introduction Date: June 25, 1994
Retired: January 7, 1995
Style Number: 4024
Hang Tag Generations: 1, 2
Tush Tag Generations: 1
Check Price: on eBay
– on Amazon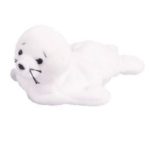 Seamore The Seal
Original DOB: December 14, 1996
Retired: October 1, 1997
Style Number: 4029
Hang Tag Generations: 1, 2, 3, 4
Tush Tag Generations: 1, 2, 3, 4
Check Price: on eBay
– on Amazon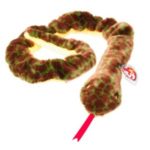 Slither The Snake
Original DOB: None
Introduction Date: June 25, 1994
Retired: June 15, 1995
Style Number: 4031
Hang Tag Generations: 1, 2, 3
Tush Tag Generations: 1
Check Price: on eBay
– on Amazon
Speedy The Turtle
Original DOB: August 14, 1994
Retired: October 1, 1997
Style Number: 4030
Hang Tag Generations: 1, 2, 3, 4
Tush Tag Generations: 1, 2, 3, 4, 5
Check Price: on eBay
– on Amazon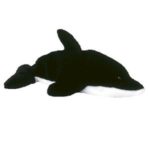 Splash The Whale
Original DOB: July 8, 1993
Retired: May 11, 1997
Style Number: 4022
Hang Tag Generations: 1, 2, 3, 4
Tush Tag Generations: 1, 2, 3
Original 9 Beanie Baby
Check Price: on eBay
– on Amazon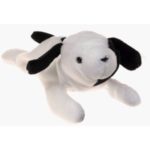 Spot The Dog (No Spot)
Original DOB: January 3, 1993
Retired: April 13, 1994
Style Number: 4000
Hang Tag Generations: 1, 2
Tush Tag Generations: 1
Original 9 Beanie Baby
Check Price: on eBay
– on Amazon
Squealer The Pig
Original DOB: April 23, 1993
Retired: May 1, 1998
Style Number: 4005
Hang Tag Generations: 1, 2, 3, 4, 5
Tush Tag Generations: 1, 2, 3, 4, 5, 6
Original 9 Beanie Baby
Check Price: on eBay
– on Amazon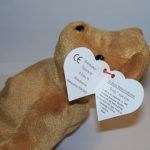 Teddy The Bear (Old Face – Brown)
Original DOB: None
Introduction Date: June 25, 1994
Retired: January 7, 1995
Style Number: 4050
Hang Tag Generations: 1, 2
Tush Tag Generations: 1
Check Price: on eBay
– on Amazon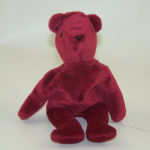 Teddy The Bear (Old Face – Cranberry)
Original DOB: None
Introduction Date: June 25, 1994
Retired: January 7, 1995
Style Number: 4052
Hang Tag Generations: 1, 2
Tush Tag Generations: 1
Check Price: on eBay
– on Amazon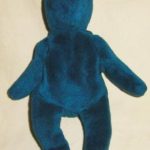 Teddy The Bear (Old Face – Jade)
Original DOB: None
Introduction Date: June 25, 1994
Retired: January 7, 1995
Style Number: 4057
Hang Tag Generations: 1, 2
Tush Tag Generations: 1
Check Price: on eBay
– on Amazon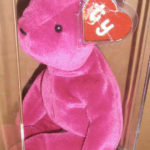 Teddy The Bear (Old Face – Magenta)
Original DOB: None
Introduction Date: June 25, 1994
Retired: January 7, 1995
Style Number: 4056
Hang Tag Generations: 1, 2
Tush Tag Generations: 1
Check Price: on eBay
– on Amazon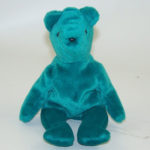 Teddy The Bear (Old Face – Teal)
Original DOB: None
Introduction Date: June 25, 1994
Retired: January 7, 1995
Style Number: 4051
Hang Tag Generations: 1, 2
Tush Tag Generations: 1
Check Price: on eBay
– on Amazon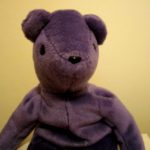 Teddy The Bear (Old Face – Violet)
Original DOB: None
Introduction Date: June 25, 1994
Retired: January 7, 1995
Style Number: 4055
Hang Tag Generations: 1, 2
Tush Tag Generations: 1
Check Price: on eBay
– on Amazon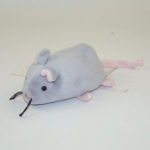 Trap The Mouse
Original DOB: None
Introduction Date: June 25, 1994
Retired: June 15, 1995
Style Number: 4042
Hang Tag Generations: 1, 2, 3
Tush Tag Generations: 1
Check Price: on eBay
– on Amazon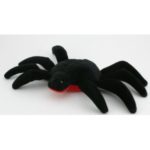 Web The Spider
Original DOB: None
Introduction Date: June 25, 1994
Retired: January 7, 1996
Style Number: 4041
Hang Tag Generations: 1, 2, 3
Tush Tag Generations: 1
Check Price: on eBay
– on Amazon
MORE ARTICLES:
2nd Generation Beanie Baby Guide