1st Generation Beanie Babies Worth Money
Beanie Babies with a 1st Generation Hang Tag can be worth money, and as you'll see below, sometimes a lot of money. The 1st Gen Beanie Babies were the first to be released in 1994 and are to this day some of the most rare and most popular.  All of these transactions come from eBay where there is still a vibrant marketplace for the popular 1990's toys.  Be sure to check out a list of all the Beanie Babies with 1st Generation Hang Tags to see if you have one!
The Tags play a crucial role in determining the value of your Beanie Baby. 1st Generation BB's without the Hang Tag can be worth a lot less then if they had the tags still attached. Condition will also play a big factor, if there are any creases, wrinkles, or imperfections in your tags that can effect the overall value and price you'll get on the secondary market.
Many of the Beanie Babies below have been Authenticated by a third party authenticator. For a fee, these authenticators will determine if your Beanie Baby is authentic and also give it a condition score. You will see Beanie Babies described as "Museum Quality" as this is a term many of the authenticators will use. When the boom in popularity of Beanie Babies occurred in the mid 1990s there were fake and counterfeit versions that entered the market. It might be a good idea to authenticate your Beanie if it does have the potential to be worth good money. But if you are the original owner of your Beanie Baby, and are not interested in selling, then there might not be a need to authenticate it.
NOTE: All 1st Generation Hang Tag Beanie Babies will have a 1st Generation Tush Tag.
1st Generation Hang Tags
Do Not

Open Like A Book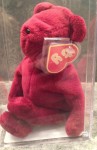 Teddy – Old Face Cranberry
Authenticated by: True Blue Beans
Heart Tag: 1st Generation
Tush Tag: 1st Generation
Sold For: $1,300.00
Date Sold: July 1, 2014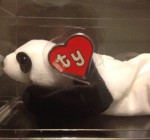 Peking the Panda
Authenticated By: True Blue Beans
Hang & Tush Tag: 1st Generation
Sold For: $795.00
Date Sold: January 5, 2014
Inky – Tan No Mouth
Authenticated By: True Blue Beans
Hang & Tush Tag: 1st Generation
Final Price: $749.99
Sale Date: June 2, 2013
Inky Octopus Beanie Babies For Sale
Peking The Panda
Authenticated By: Peggy Gallagher
Hang & Tush Tag: 1st Generation
Final Price: $715.00
Sale Date: March 3, 2013
Peking The Panda Beanie Babies on eBay
Digger The Crab – Orange
Authenticated By: Peggy Gallagher
Hang & Tush Tag: 1st Generation
Final Price: $650.00
Sale Date: May 23, 2013
eBay Seller: ultrabeaniemasters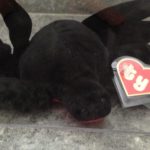 Web the Spider
Authenticated by: True Blue Beans
Heart Tag: 1st Generation
Tush Tag: 1st Generation
Sold For: $525.00
Date Sold: July 1, 2014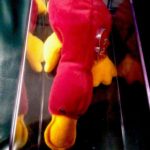 Patti – Rasberry
Authenticated by: True Blue Beans
Heart Tag: 1st Generation Korean
Tush Tag: 1st Generation Korean
Sold For: $499.99
Date Sold: July 3, 2014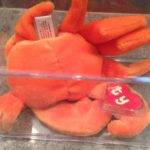 Digger the Crab – Orange
Authenticated by: Becky's True Blue Beans
Hang Tag: 1st Gen – Tush Tag: 1st Gen
Sold For: $499.99
Date Sold: June 20, 2014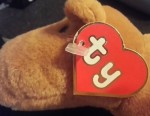 Humphrey The Camel
Hang & Tush Tag: 1st Generation
Final Price: $395.00
Sale Date: March 30, 2013
eBay Seller: refttt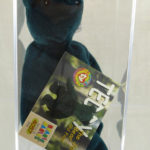 Teddy Old Face – Jade
Authenticated by: True Blue Beans
Heart Tag: 1st Generation
Tush Tag: 1st Generation
Sold For: $350.00
Date Sold: July 2, 2014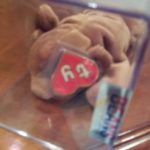 Brownie the Bear
Authenticated by: True Blue Beans
Heart Tag: 1st Generation
Tush Tag: 1st Generation Korean
Sold For: $255.00
Date Sold: July 14, 2014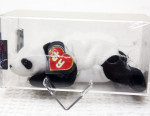 Peking the Panda
Hang Tag: 1st Generation
Tush Tag: 1st Generation
Final Price: $250.00
Sale Date: June 9, 2013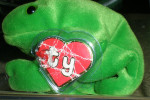 Legs the Frog
Authenticated By: True Blue Beans
Tags: 1st Generation – Korea
Sold For: $225.00
Date Sold: November 29, 2014
Patti – Rasberry – 5 Line Korean Tag
Authenticated By: True Blue Beans
Hang & Tush Tag: 1st Generation
Final Price: $237.05
Sale Date: May 28, 2013
Patti Beanie Babies on eBay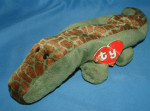 Ally the Alligator
Hang Tag: 1st Generation
Tush Tag: 1st Generation
Final Price: $148.11
Sale Date: July 9, 2013
eBay Seller: tkeeper
More Beanie Babies Value Information:
Other Generation Beanie Babies Worth Money