Chicago Cubs Cubbie Beanie Babies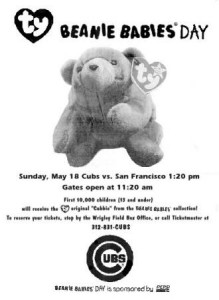 It was 1997, and in an effort to boost ticket sales, the Chicago Cubs had two Cubbie Beanie Baby promotional days. On Sunday, May 18th the Beanie Baby "Cubbie" was given away to the first 10,000 children 13 and under at Wrigley Field when the Cubs played the San Francisco Giants. The same Cubbie the Bear was given away again on Saturday, September 6th in a game against the Mets.
A Chicago Tribune article dated Friday, April 18, 1997 titled "Beanie Babies Sure Winner for Hapless Cubs" says the Cubs were in discussions with Ty, Inc. for quite some time to bring a promotion to Wrigley. The Cubs closed a deal for the Cubbie giveaway in September 1996. The Beanie Babies promotion generated "more fan interest and enthusiasm" than anything in memory according to John F. McDonough, the Cubs VP of marketing and broadcasting at the time. On April 29, 1997 a full-page ad appeared in the Chicago Tribune advertising the Ty Beanie Babies.
Over 10 years after the promotion the Chicago Cubs Beanies Babies still have some value. Typically versions of the 1997 Cubbies will sell in the $10-25 range. Most of the ones that sell well still have the commemorative card that came with it.
Value Check eBay Prices: Chicago Cubs Beanie Babies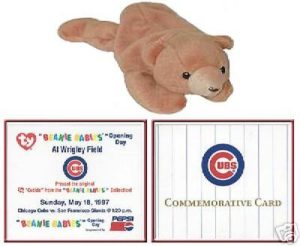 At the 13th Annual Chicago Cubs Convention held January 16-18, 1998 – Cubbie Beanie Babies were raffled off along with a special commemorative card. It's believed only 100 Cubbies were raffled off with a card that said:
Ty "Beanie Babies"
13th Annual
Cubs Convention
"Cubbie's" 1st Convention
Januarys 16-18, 1998
From the original "Beanie Babies" Collection!
Sponsored by Pepsi