Beanie Babies Price Guide – Letter B
On this page is a price guide for Beanie Babies that begin with the letter B. Most Beanie Babies here aren't worth very much, but there are some gems.
The Billionaire Beanie Babies are some of the most valuable of all Ty collectibles. They were given away to employees and other individuals. Most Billionaire Beanie Babies are autographed by Ty founder Ty Warner and typically sell for over $300.00. Below is a photo gallery of some Billionaire Bears.
Billionaire Beanie Babies – Click on image for larger view.
Other Beanie Babies Worth Money On This Page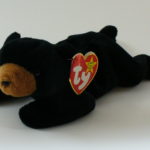 Blackie The Bear
VERSIONS WITH: 1st Generation Hang Tags
Style Number: 4011
Value: $150+
More Information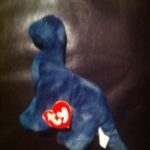 Bronty The Dinosaur
VERSIONS WITH: 1st Generation Tush Tag
Value: $82.75 +/-
Bently The Cat
Style Number: 40809
Value: $18.50+
More Information
The Number Sold is the total number of Beanie Babies that were used to get the average price.
Check the links for more information and pictures on that specific Beanie Babie.
| | | | |
| --- | --- | --- | --- |
| Beanie Babies Name | Style Number | Price | Sold |
| B.B. Birthday Bear | 4253 | $4.10 | 4 |
| BAT-e | 4429 | $4.29 | 5 |
| Baaabsy | 40376 | $5.94 | 2 |
| Baaabsy Baaag | 40488 | $9.62 | 2 |
| Badges | 40177 | $5.04 | 3 |
| Bahati | 44024 | $2.85 | 3 |
| Baldy | 4074 | $3.42 | 55 |
| Bam | 4544 | $4.50 | 14 |
| Bananas | 4316 | $3.09 | 20 |
| Bandage | 40221 | $3.52 | 5 |
| Bandito | 4543 | $5.58 | 12 |
| Banjo | 40085 | $6.23 | 12 |
| Barbaro | 40464 | $5.95 | 14 |
| Barklowe | 48428 | $3.76 | 5 |
| Barley | 40613 | | |
| Baron Van Pyre | 40575 | $5.56 | 4 |
| Basilico | 46062 | $9.47 | 8 |
| Batty | 4035 | $2.54 | 4 |
| BayStars | 46072 | | |
| Beak | 4211 | $3.00 | 31 |
| Beani | 4397 | $3.63 | 23 |
| Beanie House Rock | 40742 | $6.25 | 1 |
| Bearning Love | 40742 | $7.62 | 2 |
| Bearon (Red) | 40039 | $3.95 | 17 |
| Bearon (Brown) | 40039 | $4.10 | 4 |
| Beary Much | 44100 | | |
| Benjamin | 40239 | $2.09 | 3 |
| Bently | 40809 | $18.57 | 11 |
| Bernie | 4109 | $3.51 | 33 |
| Berry Ice | 40678 | $3.16 | 2 |
| Bessie (1st Gen Tush Tag) | 4009 | $22.00 | 2 |
| Bessie (2nd-5th Gen Tush Tag) | 4009 | $3.29 | 30 |
| Bianca | 40156 | $10.51 | 5 |
| Bidder | 4980 | $8.49 | 18 |
| Big Apple | 40120 | $2.89 | 3 |
| Bijoux | 40104 | $5.16 | 6 |
| Billingham | 48422 | $2.79 | 5 |
| Billionaire Bear #1 Authenticated | None | $389.99 | 2 |
| Billionaire Bear #2 Authenticated | None | | |
| Billionaire Bear #3 Authenticated | None | $399.96 | 3 |
| Billionaire Bear #4 Authenticated | 4501 | $190.27 | 1 |
| Billionaire Bear #5 Authenticated | 4561 | $211.99 | 1 |
| Billionaire Bear #6 Authenticated | 40041 | $180.55 | 2 |
| Billionaire Bear #7 Authenticated | 40145 | $332.50 | 2 |
| Billionaire Bear #8 Authenticated | 40264 | $300.00 | 1 |
| Billionaire Bear #9 Authenticated | 40465 | | |
| Billionaire Bear #10 Authenticated | 40591 | | |
| Billionaire Bear #11 Authenticated | 40750 | | |
| Billionaire Bear #12 Authenticated | | $340.00 | 1 |
| Billionaire Bear #13 Authenticated | 40912 | $399.99 | 1 |
| Binksy | 40186 | $6.98 | 4 |
| Bits | 49009 | $6.61 | 6 |
| Bixby | 40152 | $2.94 | 2 |
| Blackie | 4011 | See Guide | |
| Blessed | 40010 | $7.55 | 17 |
| Bliss | 40724 | $15.12 | 6 |
| Blissful | 40628 | $9.49 | 9 |
| Blitz | 40248 | $6.33 | 4 |
| Blizzard | 4163 | $3.47 | 42 |
| Bloom | 4596 | $3.77 | 24 |
| Bloomfield | 40343 | $4.47 | 4 |
| Blue | 4424 | | |
| Blue Beanie Shoes | 40742 | $6.98 | 2 |
| Bluebonnet | 40351 | $3.63 | 3 |
| Bo The Dalmation | 4595 | $4.21 | 15 |
| Bones | 4001 | See Guide | |
| Bongo | 40781 | 2.19 | 4 |
| Bonnet | 44046 | $8.45 | 2 |
| Bonsai | 4567 | $4.87 | 12 |
| Bonzer The Koala | 40022 | $3.00 | 9 |
| Boo Who? | 47080 | $7.99 | 2 |
| Boomer The Dog | 40746 | $5.00 | 1 |
| Booties | 4536 | | |
| I Love Boston | 40124 | $3.36 | 9 |
| Bounder | 46108 | $14.75 | 2 |
| Bounds | 40653 | $11.95 | 2 |
| Breadcrumbs | 48412 | $3.31 | 5 |
| Bride | 4528 | | |
| Brigitte | 4374 | $3.20 | 17 |
| Britannia | 4601 | $6.10 | 31 |
| British Columbia Pacific Dogwood | 46038 | | |
| Bronty (1st Gen Tush Tag) | 4085 | $82.75 | 8 |
| Bruno | 4183 | $2.57 | 34 |
| Brutus 2006 DOB | 40482 | $14.39 | 2 |
| Bubbles (1st Gen Tush Tag) | 4078 | $22.87 | 4 |
| Bubbly | 4985 | $1.89 | 10 |
| Buckingham | 4603 | $9.51 | 10 |
| Bucky (2nd Gen Tush Tag) | 4016 | $24.83 | 3 |
| Bucky (3rd-5th Gen Tush Tag) | 4016 | $3.07 | 32 |
| Bumble (1st Gen Tush Tag) Authenticated | 4045 | $54.81 | 7 |
| Bumble (1st Gen Tush Tag) | 4045 | $31.84 | 7 |
| Busby | 40456 | $23.54 | 6 |
| Bushy | 4285 | $3.56 | 34 |
| Butch | 4227 | $2.97 | 22 |
| Buttercream | 4803 | $1.05 | 5 |
| Buzzie | 4354 | $4.03 | 17 |
| Buzzy | 4308 | $3.56 | 20 |
CLICK ON THE LINKS TO VIEW BEANIE BABIES PRICES BEGINNING WITH THAT LETTER