Beanie Babies Price Guide – Letter A
This is a price guide for the Beanie Babies that start with letter 'A'.
One of the key Beanies beginning with the letter A is the 1st Generation Ally the Alligators, which can be worth decent money.
Also look for the rare Aotearoa, with the Flag Nose, which can bring in over $30.
If there is a Beanie beginning with the letter A that you have and don't see listed, leave a comment below and I will add them to the list.
Beanie Babies Worth Money On This Page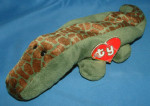 Ally The Alligator
Style Number: 4032
VERSIONS WITH 1st GEN Hang Tag ONLY
Value: $150+
More Information
Check the links for more information and pictures on that specific Beanie Babie.
CLICK ON THE LINKS TO VIEW BEANIE BABIES PRICES BEGINNING WITH THAT LETTER