Beanie Babies Price Guide – Letter I
This is a Beanie Babies price guide for ones beginning with the letter I. There aren't that many Beanie Babies that begin with I, if you have one that isn't listed on this page, leave me a comment and I will add it to the list.
Key Beanie Babies on this page are Inky the Octopus. 1st Generation versions with no mouth are very rare and almost impossible to find. They can easily sell for over $300 in decent condition. While worth less, Inch the Worm with 3rd/1st Generation Tags are still a very nice find.
Beanie Babies on This Page Worth Money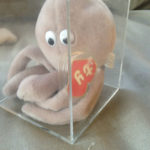 Inky – Without a Mouth
Swing Tag: 1st Generation
Tush Tag: 1st Generation
Sold For: $450.00
Date: March 15, 2014
Top Beanie Babies Sales – March 2014
The QTY Sold is the total number of Beanie Babies that were used to get the average price.
| | | | |
| --- | --- | --- | --- |
| Beanie Name | Style Number | Average Price | QTY Sold |
| Icebox The Polar Bear | 40790 | $3.25 | 5 |
| Icecubes | 48420 | $5.06 | 10 |
| Icepack | 44205 | $3.24 | 6 |
| Icing | 40241 | $4.40 | 2 |
| Iggy | 4038 | $3.82 | 31 |
| Illinois (I Love) | 40127 | $4.66 | 3 |
| Illinois Violet | 40293 | $2.51 | 6 |
| Inch (3rd/1st Tags) | 4044 | $22.84 | 3 |
| Inch (4th Gen or Later Tags) | 4044 | $2.89 | 18 |
| Independence (Blue) | 40366 | $2.59 | 5 |
| Independence (Red) | 40366 | $3.28 | 4 |
| Independence (White) | 40366 | $3.13 | 6 |
| India | 4291 | $4.55 | 29 |
| Inky (Grey No Mouth) 1st/1st Tags | 4028 | $381.00 | 2 |
| Inky (Grey No Mouth) 2nd/1st Tags | 4028 | $122.50 | 2 |
| Inky (Grey w/ Mouth) 3rd/1st Tags Authenticated | 4028 | $58.77 | 1 |
| Ireland (I Love) | 46019 | $9.63 | 8 |
| It's A Boy | 40056 | $5.20 | 1 |
| It's A Girl | 40055 | $2.85 | 2 |
CLICK ON THE LINKS TO VIEW BEANIE BABIES PRICES BEGINNING WITH THAT LETTER