Beanie Babies Price Guide – Letter P
Beanie Babies price guide for ones beginning with letter 'P'.
One of the most common Beanie Babies is the Princess Diana Bear. Keep in mind, a portion of the original sales went to charity, so it's not like they were trying to make them limited. There are well over 20 million Princess Beanie Babies in existence. PRINCESS BEARS ARE ONLY WORTH $1-10 ON THEIR BEST DAY. I typically buy Princess Bears locally for $1-2.
Many counterfeit versions of the Princess Bear exists.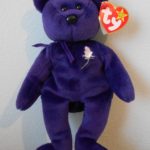 Princess Bear
NOT WORTH ANYTHING
VERY misleading article from the Daily Mail UK.  A couple bought a Princess Bear for $15, thinking it was worth tens of thousands. They actually got ripped off paying $15 for it.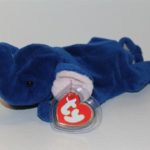 Peanut – Royal Blue
Authenticated by: Becky's True Blue Beans
Hang Tag: 3rd Gen – Tush Tag: 1st Gen
Sold For: $510.00
Date Sold: May 11, 2014
Top Beanie Babies Sales – May 2014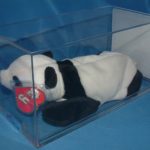 Peking the Panda
Authenticated by: True Blue Beans
Swing Tag: 1st Generation
Tush Tag: 1st Generation
Sold For: $305.00
Date Sold: April 6, 2014
Top Beanie Babies Sales – April 2014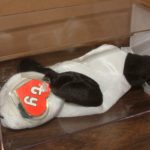 Peking the Panda
Authenticated by: PBBags
Swing Tag: 2nd Generation
Tush Tag: 1st Generation
Sold For: $180.27
Date Sold: April 27, 2014
Top Beanie Babies Sales – April 2014
Pablo -$40
Pads -$15
Pal -$6
Palace -$5
Palms -$4
Panama -$3
Panmunjom -$10
Pansage -$12
Pansy -$4
Papa Grandfather -$6
Papa 2007 -$5
Pappa -$4
Pappa 2004 -$4
Parka -$7
Patches -$15
Patriot -$4
Patti – See Guide
Patty O'Lucky -$8
Paul -$2
Peace – See Guide
Peaches -$5
Peanut – See Guide
Pearl -$4
Pecan -$2
Peekaboo -$2
Peepers -$6
Peeps -$3
Pegasus -$8
Peking – See Guide
Pellet -$4
Pennsylvania -$4
Pennsylvania Mountain -$4
Peppa -$5
Peppermint -$30
Periwinkle e-Bear -$3
Periwinkle Cat -$20
Petunia -$4
Phantom -$6
Philadelphia -$3
Philadelphia Eagles -$6
Philadelphia Phillies -$6
Pi -$4
Picnic -$4
Pico -$7
Pierre -$4
Pig -$4
Pilgrim -$10
Pinata -$2
Pinchers – See Guide
Pinkerton -$4
Pinkie Pie -$7
Pinky Flamingo -$4
Pinky Guinea Pig -$20
Pinny -$5
Pinta -$4
Pippo -$15
Pique -$8
Piran -$15

Pirouette -$8
Pittsburgh -$4
Pittsburgh Pirages -$8
Pittsburgh Steelers -$8
Plex -$20
Pluff -$5
Plymouth -$5
Pocus -$4
Poet -$4
Pogo -$15
Pompey -$6
Pompoms -$8
Ponder -$4
Pongo -$5
Poofie -$2
Pooky -$15
Poolside -$3
Poopsie -$2
Popcorn -$4
Pops -$3
Poseidon -$3
Posy -$3
Pouch -$2
Pounce -$2
Pounder -$10
Pounds -$3
Prance -$3
Premier -$5
Pretzels -$10
Prickles -$3
Prickles 2010 -$20
Pride -$15
Prima -$5
Prince -$3
Princess – See Guide
Princess Cadence -$5
Princess Celestia -$5
Princess Luna -$5
Princess Peppa -$5
Prinz von -$3
Promise -$15
Propeller -$3
Prunella -$5
Puddles -$8
Pudding -$15
Puffer -$2
Pugsly -$3
Pumkin' -$3
Punchers – See Guide
Punchline -$10
Pungo -$9
Punkin Face -$10
Punxsutawney Phil -$5
Pup-In-Love -$3
Puppy Claus -$5
Purr -$4
Purry -$10
Puss In Boots -$10
CLICK ON THE LINKS TO VIEW BEANIE BABIES PRICES BEGINNING WITH THAT LETTER