Beanie Babies Price Guide – Letter H
This is a price guide for Beanie Babies that begin with the letter H. If you have a Beanie Babie and it begins with H and is not listed on this page, just leave me a comment and I'll find an average price for you.
The key Beanie Babies on this page include Happy the Hippo and Humphrey the Camel. Versions with a 1st or 2nd Generation Hang Tag can bring some serious money.
Beanie Babies on This Page Worth Money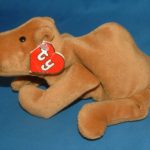 Humphrey The Camel
1st-3rd Generation Versions = $$$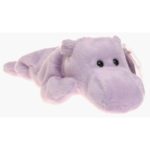 Happy the Hippo
1st-2nd Generation Versions = $$$
Hairy -$6
Halo -$3
Hamish -$
Hamlet -$7
Hamley -$7
Hannah -$8
Hansel -$10
Happily -$5
Happy – See Guide
Happy Birthday -$4
Happy Hanukkah -$5
Happy Holidays -$5
Happy Valentine's -$5
Hark -$4
Harold -$3
Harrison -$4
Harry -$3
Harvester -$7
Haunt -$4
Haunted -$4
Haunting -$5
Haunts -$6
Hawaii -$7
Hawthorne -$4
He Shoots He Scores -$5
Heartbear Hotel -$5
Heartbeat -$3
Heartland -$10
Heartley -$10
Hearts -$7
Hearts-A-Flutter -$6
Hearts-A-Plenty -$10
Heartthrob -$3
Heather -$5
Heavenly -$10
Heiress -$5
Henley -$5
Henry -$20
Herald -$5
Herbert -$15
Herder -$4
Hero -$3
Hers -$4
Herschel -$4
Hikari -$11
Hippie -$5
Hippily -$4
Hippity -$5
His -$6
His Majesty -$5
Hissy -$4
Ho Ho Ho -$2
Hobo -$7
Hocus -$7
Hodge-Podge -$3
Hodges -$6
Hoho -$
Holidays -$2
Hollydays -$4
Hollyhorse -$4
Holmes -$3
Holy Father -$3
Homeland -$5
Honey-Bun -$3
Honker -$4
Honks -$4
Honor Roll -$7
Honors -$2
Hoodwink -$10
Hoofer -$5
Hoops -$8
Hoot – $7
Hootsey -$10
Hope -$4
Hopper -$5
Hoppily -$3
Hoppington -$5
Hoppity -$4
Hopson -$3
Hopsy -$5
Hornsly -$4
Houston -$5
Howl -$7
Howlidays -$5
Hugamus -$10
Huggins -$5
Huggy -$3
Hug-hug -$4
Hugsy -$7
Hulk -$5
Humphrey – See Guide
HUMONGOUSAUR -$20
Huntley -$4
Hutch Clutch -$8
Hutches -$5
Hydrant -$5




CLICK ON THE LINKS TO VIEW BEANIE BABIES PRICES BEGINNING WITH THAT LETTER