Beanie Babies Price Guide – Letter F
Price guide for Beanie Babies starting with the letter F. If you have a Beanie Babie that starts with F and it's not on this page, leave a comment and I will add it to the list.
Some of the key Beanie Babies on this page are Flash the Dolphin and Flutter the Butterfly. Flash is apart of the Original 9 Beanie Babies and 1st or 2nd Generation versions can bring solid money. Flutter with 3rd Generation Heart and a 1st Generation Tush Tag can command $50-$90.
Beanie Babies On This Page Worth Money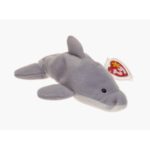 Flash The Dolphin
1st & 2nd Generation Versions = $$$$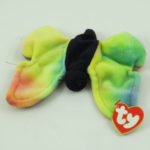 Flutter the Butterfly
3rd HT & 1st TT Versions = $$$
Fairydust -$6
Fairytale -$4
Fancy -$9
Farley -$12
Fauna -$4
Fay -$5
Fearless -$7
Feastings -$6
February -$5
Feder-bear -$15
Ferny -$5
Fetch -$5
Fetcher -$4
Fiddler -$5
Fidget -$4
Fields -$
Filly -$5
Fin -$10
Finn -$5
Fins -$5
Fire -$15
Fireplug -$5
Fireworks -$5
First -$5
Fitz -$6
Fizzer -$5
Flaky -$3
Flash – See Guide
Flashy -$6
Fleece -$5
Fleecia -$6
Fleecie -$4
Fletch -$
Fleur -$5
Flicker -$5
Flip -$5
Flitter -$4
Float -$4
Floppity -$4
Flora -$4
Florida -$4
Floxy -$7
Fluff -$8
Fluffball -$10
Flurry -$6
Flutter – See Guide
Fluttershy -$6
Foofa -$8
Football Star -$5
Forever Friends -$5
Fortress -$7
Fortune -$5
Founders -$4
Fraidy -$5
Frank -$7
Frankenteddy -$6
Freckles -$4
Freezie -$5
Freiherr Von Schwarz -$14
Fridge -$4
Friedrich -$10
Friends -$10
Frightful -$10
Frigid -$4
Frills -$3
Frisbee -$4
Frisco -$5
Frisky -$5
Fritters -$6
Frolic -$5
Frostiness -$6
Frosty -$4
Fuddle -$3
Fuli -$5
Fumbles -$12
Fun -$5
Funky -$4
Furston -$7
Fussy -$4
Fuzz -$4
CLICK ON THE LINKS TO VIEW BEANIE BABIES PRICES BEGINNING WITH THAT LETTER