Beanie Babies Price Guide – Letter G
Price guide for Beanie Babies that begin with the letter G. If you need pricing for a Beanie Babie that isn't listed on this page and begins with letter G, leave a comment and I will add it to the list.
Key Beanie Babies on this page include Goldie the Fish, which can be worth decent money if they have 1st or 2nd Generation Heart Tags. 1st Generation version can easily sell for over $150. Grunt the Razorback's are worth about $30 if they have 3rd/2nd Generation Tags. Grunt's with 4th Generation Tags are only worth about $5.
Beanie Babies on This Page Worth Money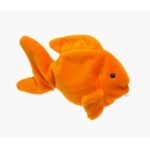 Goldie The Fish
1st & 2nd Generation Versions = $$$$
Gallops -$7
Garcia – See Guide
Gardenia -$4
Garlands -$5
Gary -$8
George -$6
George Super Hero -$7
Georgia -$4
Georgia Cherokee Rose -$4
Germania -$5
Germany -$6
Ghostio -$6
Ghoul -$5
Ghoulianne -$3
Ghoulish -$5
Giblets -$11
Gidget -$5
Gift -$5
Giganto -$4
GiGi -$4
Gimmy -$5
Gingerspice -$7
Gingy -$15
Giraffiti -$5
Giving -$8
Gizmo -$4
Glacier -$6
Glider -$3
Gloria -$6
Glory –See Guide
Glow -$4
Goat -$5
Goatee -$4
Gobbled -$5
Gobbles -$3
Goddess -$5
Golden Peppa -$5
Goldie – See Guide
Goochy -$3
Goodheart -$4
Goodnight Garfield -$8
Goody -$9
Gouliette -$8
Grace -$4
Gracie -$3
Graf von Rot -$6
Gramps -$6
Grams -$5
Grandad Dog -$10
Grandfather -$4
Grandmother -$6
Grape Ice -$7
Green Bay Packers -$10
Gratefully -$4
Gravy -$20
Green M&M -$8
Greetings -$3
Greg Biffle -$2
Gretel -$3
Grizzwald -$4
Groom -$5
Groovey -$6
Groovy -$4
Groowwl -$6
Grumbles -$5
Grunt -$34
Guam -$10
Gully -$5
Gus -$10
Gussy -$6
Gylfie -$20
Gypsy -$6
CLICK ON THE LINKS TO VIEW BEANIE BABIES PRICES BEGINNING WITH THAT LETTER